DB Schenker
With over 70,000 employees in over 100 countries, DB Schenker is one of the world's largest providers of logistics services, with assets in maritime, air, and rail transportation. Headquartered in Frankfurt, Germany, DB Schenker is especially strong in Europe. The DB in its name is derived from Deutsche Bahn, the German railway corporation of which DB Schenker is a subsidiary.
A major provider of value-added services and 'contract logistics,' DB Schenker offers a broad range of specialized services tailored to the logistics needs of various industries: automotive companies; beverage companies; consumer products, electronics; fashion and retail; healthcare and pharma; industrial; marine parts; oil and gas; perishables; recyclables; semiconductors, and solar power companies.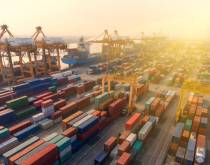 Third-party logistics industry had a banner 2020, with double-digit revenue growth, according to SJ Consulting.