New Orleans Cold Storage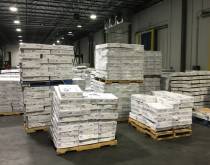 The acquisition of Emergent Cold gives US-based Lineage Logistics greater access to Asian markets and facilities at three US ports.

Commercial realtor CBRE forecasts refrigerated warehousing will increase 30 to 40 percent over the next five years, even though the rapid supply and demand imbalance in warehousing overall is flattening.
New Orleans Cold Storage has plans to more than double the size of its existing storage space at the Port of Charleston, South Carolina.
New Orleans Cold Storage, the oldest cold storage company in North America, opened a new 142,000-square-foot cold storage warehouse at the Port of New Orleans on Thursday.