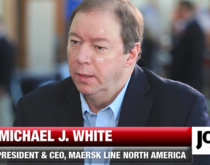 The industry has needed consolidation for years, said Maersk Line North America President and CEO Michael White.

U.S. East Coast ports will increase their share of containerized trade from 35 percent to roughly half by 2020, putting them on parity with the West Coast, according to Rafi Danieli, CEO and president of Zim Integrated Shipping Services.

A year-over-year drop in worldwide TV shipments underscores the link between shifts in global currency values, consumer sentiment and shipping volumes.
Sinokor Merchant Marine is the latest container carrier to try to tap growing demand on the intra-Asia trade by setting up cooperation agreements with current operators on the route.