Nebraska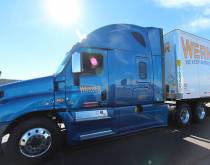 A long-term investment in technology is helping Werner generate profits, and capacity for shipper customers.

As a multi-state region is devastated by historic flooding, shippers are rerouting, delaying cargo until waters recede and the full impact on truck capacity becomes clear.

"Relentless" investment in equipment, higher driver pay help boost capacity, revenue, profit for Werner.