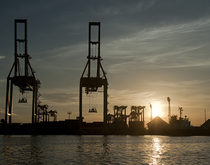 The government wants to develop a high capacity, low unit cost shipping network.
The KM Meratus Banjar 2 sank in the Java Sea, claiming the lives of two sailors.

The Port of Rotterdam Authority has signed a partnership agreement with the Indonesian Port Corporation Pelindo I for the development of a new deep sea port at Kuala Tanjung.

The Indonesian government has set up a task force faced with the daunting goal of slashing container dwell times by more than half at the country's largest port of Tanjung Priok in Jakarta.