Chile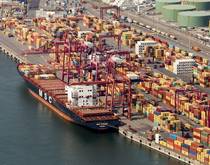 The Comprehensive and Progressive Agreement for Trans-Pacific Partnership, which took effect Dec. 30, will contain 495 million consumers.

Cosco Shipping Lines was able to contain the damage from last week's cyber attack to its operations in the Americas, and cargo handling in the United States, Canada, and South America at its marine terminals was largely unaffected because Cosco isolated its internal networks across its global operations.

Shippers looking to send goods from Latin America west — especially from Mexico — to China and the Far East, and in the other direction, have a growing list of options after the launch of three new services.

HMM has been South Korea's flagship container carrier since the bankruptcy of Hanjin Shipping in February 2017.