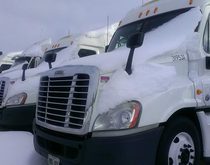 Shippers show they are willing to pay more for dedicated capacity, and J.B. Hunt is happy to oblige.

The US spot truckload market is delivering Christmas dinner, as demand for potatoes and meats spike and spot market volumes are nearly double year-ago levels. E-commerce is also shifting freight shipments closer to the year's end.

The truckload carrier is reducing the size of its company fleet but hopes a pay hike will attract more independent contractors.

Second-quarter results show $6.2 billion J.B. Hunt is spending to build intermodal, truck volume, revenue.