Five freight best practices learned from a global pandemic
Five freight best practices learned from a global pandemic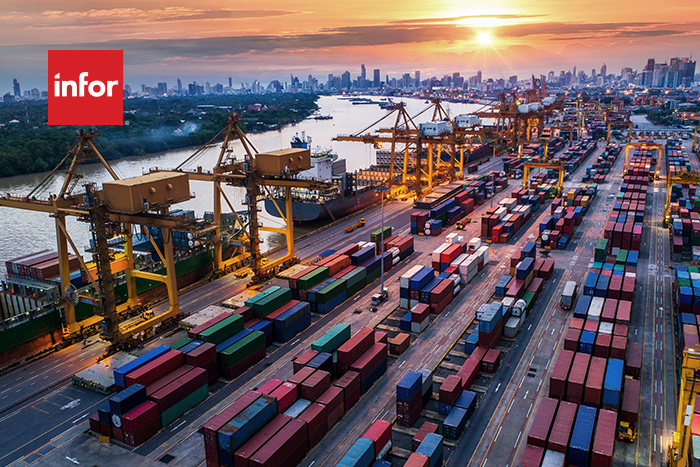 Supply chain execution has grown significantly harder as more companies with internal their supplier and customer bases. With that, it's no surprise that the fragility of logistics networks and capacity flows have been thrown into stark relief by COVID-19.
For decades, manufacturers have wrestled with various supply chain approaches to synchronize their manufacturing and business strategies from time-based and 'lean' to more flexible models like 'sense and respond.' But not all businesses have successfully met the challenges.
Supply chain globalization exposes businesses to more uncertainty, more risk, and more change. The year 2020 complicated this even further due to the global pandemic response.
The management of supply chain logistics, and more specifically transportation, has always been measured by the ability to contain cost. Increasingly, the focus on cost-effective shipping is being outweighed by greater awareness for the competitive and customer retention value that faster, more reliable transportation services have to offer.
Balancing opposing goals for greater speed and cost containment is difficult with traditional approaches to transportation management, and those challenges were further put on display over the past year.
Here then, are five of the top best practices for leading supply chains concerned with global freight disruption, spiraling freight spending and declining carrier/service provider performance levels.
1. Winning the final mile relies on controlling the first mile
For shippers, managing international container shipments is a complex process, even with the help of skilled logistics service providers. Ocean shipping is a fragmented, multi-leg, multi-party process that generally lacks visibility at any given time. Simply tracking shipment progress is challenging due to the many chain-of-custody handoffs that occur. Accurately projecting the various elements that make up total transportation cost is difficult, which means reducing or optimizing those costs becomes nearly impossible.
The larger the trans-ocean shipping volumes and freight spend, the more opportunities there are for the enterprise to take out cost, lead time variability, and delivery uncertainty, to the benefit of end customers as well as the bottom line.
A company may truly expect freight to be a higher component of COGS when deliberate market strategies emphasize shipping speed and time-to-market or higher customer service. This strategic approach can be budgeted for and support a highly profitable and competitive business, but no one wants to overpay for a given level of service. Overspending can chip away at profit if diligent efforts and effective technologies aren't systematically applied.
With more cross functional, integrated approaches to transportation decision-making processes, the reward can be up to 15% reductions in total freight spend over baseline expectations. While general rate increases or a newly mandated fuel surcharge basis will happen, identifying and eliminating ineffective freight spend can add millions to the company's bottom line.
2. Manual processes don't save money; they cost the business
Inbound supplier orders may be noted as on‐time in full and the 3PL and carriers involved have met their SLAs, but product lead time estimates were already pre-padded with a 5 day delay, translating to 5 extra days of inventory and carrying costs. Additionally, unplanned spending may be introduced by the 3PL through detention and demurrage charges, the shipper's internal stakeholders may drive sub‐optimal decisions to expedite freight, and the cumulative effect of manual international shipment management may now total thousands of dollars more than expected.
Dedicated staff at various global facilities chasing shipment updates from various forwarders and steamship lines rely on latent reports that add little value, and often come at a hidden cost. Carrier invoice auditing is another time-consuming process often outsourced at significant price to try and reduce labor costs.
Mishandled shipping decisions like carrier or forwarder exceptions and adjustments, manual shipment tracking; and freight invoice auditing occur daily day across thousands of global shipments. Without global logistics management capabilities, it's a daunting effort to uncover the general scope of freight overspend. But if you can't measure it, you can't manage it.
Best in class freight spend management requires a shared data platform to:
· Tie together procurement, contracts, rate amendments, carrier selection, execution, audit, and pay for a holistic visibility and control strategy
· Enable global governance processes to manage execution and service provider performance
· Activate on-demand access to orders, shipments, freight plans, inventory in motion, and both projected and actual freight spending
· Manage collaborative network performance with logistics providers and trading partners
· Automate data collection and improve data quality for critical analysis needs
3. Customer service is more important than freight costs
Sales people notoriously lean on shipping departments to expedite orders to meet unreasonable delivery dates, overcome administrative errors and paperwork delays, impress new clients, win deals from competitors, and more. Many reasons are offered for expedited freight services with often little sales accountability for negative impacts on costs-to-serve or profit margin goals.
New customer onboarding or entry into new markets may result in carriers being unable provide the service levels promised or planned for. This can remain uncovered until order flows begin, and customer complaints ensue, forcing transportations departments to work with a more expensive solution to retain the business or acquire market share.
Major supply chain disruptions can have similar outcomes. In the wake of COVID-19 shutdowns across China in early 2020, many North American retailers were forced to move low-profit items from Chinese suppliers by costly air freight when ocean carriers and shipping containers briefly became unavailable.
Freight services and costs are as subject to demand and supply variability as any physical product might be.
Now add meeting demand spikes, overcoming seasonal weather disruptions, natural disasters or fires at sea or in warehouses, new customers, new market geographies or shifting supply lines, and the challenge of keeping shipping costs contained becomes that much harder.
Even when the transportation department has carefully accounted for all moving parts, a company can find itself with blown freight spend budgets in the face of completely unpredictable events such as a global pandemic.
Transportation decisions are typically made in fragmented, siloed fashion across a global enterprise, even today.
Freight budgets are commonly exceeded because the organization lacks global governance and process standardization for areas like carrier selection and routing guidance, while poor shipment reliability and visibility lead to increased expediting requests. Freight rates and capacity always fluctuate, but transportation management inefficiency leads to systemic waste that can be dramatically reduced with more effective freight management systems.
Yes, customer satisfaction is paramount in a competitive market, where they have many opportunities to source their needs if your organization can't fulfill them in timely fashion. But without systems to track the spending impact of ad hoc shipping decisions on COGS or cost-to-serve, you risk ongoing business profitability. To meet new customer experience imperatives that provide necessary service levels, your business needs a systematized freight management platform streamlines execution while capturing real-time network performance.
4. Sales revenues or lean inventories: pick one
Inventory performance has become an increasingly important metric in evaluating the performance of many publicly held companies, especially retailers. Firms with impressive sales growth for a given period are often judged by investors because inventory levels were higher than perceived optimums in the same period, implying carrying costs lowered profitability.
Fundamental shipping pattern disruptions characterized 2020 (port congestion, blanked sailings, , container shortages ,parcel demand spikes, etc.) and dramatically drove down the reliability of product lead times and transit time. Many companies that prudently curtailed supplier orders at the start of nation-wide lock-down periods found their inventory levels unprepared to respond when consumer demand reappeared mid-year. Inventory replenishment still lags surging demand, and global shipping is scheduled to continue at high volumes well through 2021.
With lost sales attributable to too-lean inventories still fresh on the minds of business executives, many companies are re-jiggering inventory management strategies away from just-in-time and toward just-in-case.
5. Outsourcing (some) logistics increases agility and reduces risk
Freight forwarders and 3PLs are critical partners that help with regional market transportation and customs complexities in addition to augmenting sparse talent pools. While a portion of global shippers prefer to internally control international logistics, and maintain close, direct relationships with a core set of carriers, the widespread carrier capacity problems of 2020 drove many of these shippers to with Non-Vessel Operating (NVOs) contracts as well.
These 'freight intermediaries' offer access to additional capacity and different carriers than shippers had contracted with, creating more container capacity in tight markets. They also assist with origin country product storage when shipments could not move swiftly from supplier doors, allowing enterprises to established more offshore inventory holding positions to keep their suppliers unencumbered with orders that could not be quickly moved offshore because of container shortages or carrier capacity challenges.
As a risk mitigation strategy, adding more NVOs to global service provider networks increases shipping options in tight freight markets, offering novel modal combinations and travel routes to keep products flowing when traditional carriers and shipping lanes can't satisfy business needs.
Working closely with key global forwarders in major supplier regions can offer a higher level of assurance and business confidence for beneficial cargo owners when supply chains operate in extended periods of turmoil and uncertainty. The additional cost exposure that the business may have with increased logistics outsourcing can be easily offset with improved security of product supply to keep sales or manufacturing humming.
Final Thoughts
Without centralized freight spend governance strategies and digital systems to capture actuals vs. planned spending across all logistics service providers, in combination with regional operational visibility, it can be hard to differentiate highly effective transportation departments operating in extreme pricing conditions from those that are merely reactive and therefore always putting out fires.
When national economies and consumer buying behaviors finally begin stabilizing in new post-pandemic patterns, and equipment and capacity imbalances move toward more functional equilibrium, not all businesses will emerge successfully on the other side of our current challenges. Those that will succeed are fast to learn, faster to adapt, and absolutely ready to embrace the critical importance of better managing their global supply chain operations. Read this best practice guide to learn how your organization can improve its global transportation management moving forward.