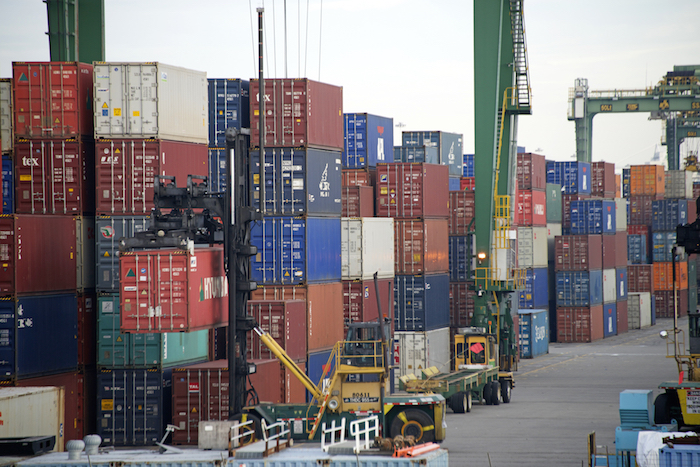 The membership of the International Longshore and Warehouse Union Friday voted overwhelmingly to approve a new contract that should ensure labor peace at West Coast ports for at least the next four years.
The five-year contract, which is retroactive to July 1, 2014, will expire on July 1, 2019. The ILWU headquarters in San Francisco said 82 percent of the rank-and-file votes were cast in favor of the contract. That compares with a 75 percent vote in favor of the previous contract that was signed in 2008.
The contract ratification closes a year of tumultuous relations between the ILWU and the Pacific Maritime Association, which saw West Coast ports overwhelmed by congestion because of dockworker slowdowns and a response by employers that included cutbacks on costly night and weekend work.
"The negotiations for this contract were some of the longest and most difficult in our recent history," ILWU International President Robert McEllrath said. "Membership unity and hard work by the negotiating committee made this fair outcome possible," he said.
Although the contract includes increases in pay, improved employer-funded medical benefits and a generous retirement package with a pension of $88,800 for workers with 37 years of service, the monetary issues did not cause significant problems during the negotiations.
Talks bogged down because of jurisdiction over maintenance and repair of chassis, the choice of local arbitrators to handle day-to-day disputes at marine terminals, and demands for extra manning and guaranteed extra hours for certain positions.
The negotiations began on May 12, 2014. The ILWU refused to extend the previous contract, which expired on July 1, opening the door for work slowdowns. The ILWU on Oct. 31 began an orchestrated program of work slowdowns and shorting employers key skilled workers. This led to employer retaliation that included elimination of night and weekend work.
The PMA in late 2014 requested federal mediation, and the ILWU followed in early January by agreeing to mediation. President Obama sent Labor Secretary Thomas Perez to San Francisco to attempt to foster a resolution. When the negotiations dragged on into mid-February, Commerce Secretary Penny Pritzger joined in briefly. Finally, President Obama warned both sides that if a settlement was not reached by Feb. 20, they would be asked to move the negotiations to Washington. The tentative agreement was announced that night.
Contact Bill Mongelluzzo at bill.mongelluzzo@ihs.com and follow him on Twitter: @billmongelluzzo.