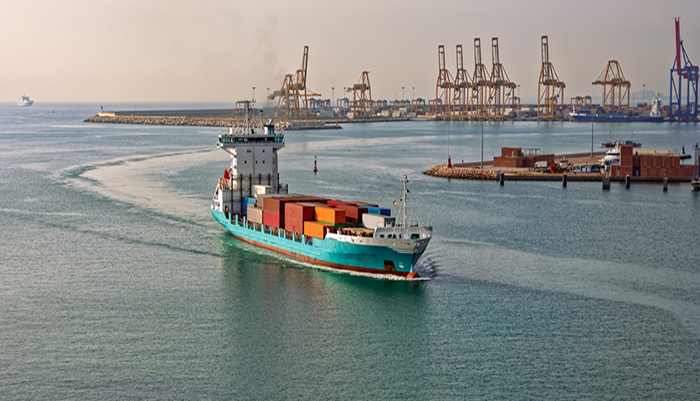 WASHINGTON — With just two weeks before the new SOLAS rule takes effect, the top U.S. maritime regulator Thursday said container lines should use current procedures of weighing containers to meet the requirements of the rule and avoid hampering exporters' supply chains.
"Why anyone would add procedures, requirements and costs to doing business is not only puzzling, it raises the specter of anti-competitive behavior and necessitating Commission action," U.S. Federal Maritime Commission Chairman Mario Cordero said in a statement Thursday.
In a strongly worded statement, U.S. Federal Maritime Chairman Mario Cordero questioned why the current processes to meet U.S. safety rules couldn't be used to meet the Safety of Life at Sea rule that takes effect July 1. On that date, every container loaded on a seafaring vessel must be accompanied by documentation of its verified gross mass, or VGM, according to the International Maritime Organization's recent amendment to the SOLAS convention.
U.S. container terminals and ports are taking different approaches to the SOLAS rule. The Port of Charleston was the first to say it would offer a container weighing service, followed by other Southeast ports. Others, such as the APM Terminals' facility in New Jersey, have said they will allow boxes without a VGM in the terminal but won't let them be loaded onto ships, per the IMO requirement. At Los Angeles and Long Beach, meanwhile, the response has been more nuanced: terminal operators early on said they would not allow containers past their gates without VGM documentation already in tow, but they are now saying they may potentially offer container weighing services.
The guidance from operating ports, carriers, terminal operators and nation states has been variable and prone to change. How the VGM is conveyed, who can weigh a container, who can verify that weight, who can certify scales, what sort of variance between the VGM and actual weight of a box is permitted and the cost of fines, penalties and fees associated with all those factors vary from country to country, port to port and carrier to carrier.
That doesn't, and shouldn't, have to be the case, according to Cordero.
"There is a course to SOLAS VGM compliance provided by the Coast Guard that is not only not burdensome, it requires no additional action at all," Cordero said.
Using the weight taken at terminal gates for the purposes of satisfying requirements of the Occupational Safety and Health Administration under U.S. law is a simple and efficient solution for assuring the continued smooth flow of export cargoes, Cordero said.
The commissioner emphasized that container lines and terminal operators should be working to streamline not only the transmission of VGM information come July 1, but the procedures used to obtain and provide VGMs.
Last month, six U.S. East and Gulf coast operating ports and 19 ocean container lines submitted a discussion agreement to the FMC petitioning it to allow them to craft a common strategy for meeting the new SOLAS requirements. That discussion agreement would allow them to share information and data relating to the production, use, receipt and transmission of container weight information that is gained through existing processes to meet OSHA rules. While still under FMC review, the commission has been asked to expedite the traditionally 60-day process.
Although the FMC is not the agency tasked with enforcing SOLAS compliance — the U.S. Coast Guard is — Cordero said in his statement that a discussion agreement would mean the FMC would have some skin in the game. Any discussion agreement, he said, "will invite increased scrutiny from the commission."
Cordero's statement comes after Senator John Thune, R-South Dakota, — the third-ranking Senate Republican and chairman of the Commerce, Science and Transportation Committee — in May asked the FMC to get more involved in mitigating SOLAS container weighing concerns and determine if the approaches of container lines and marine terminals are consistent with U.S. maritime law.
"I think that the chairman is trying to help, but to the extent his statement suggests there is only one path to VGM compliance, that is incorrect," said World Shipping President and Chief Executive Officer John Butler. The WSC represents carriers controlling roughly 90 percent of global container capacity and was a major player in the creation of the new SOLAS rule.
Butler said that while it increasingly appears that marine terminals will be part of the solution, they are not the only solution and not all marine terminals are offering the services that Cordero believes they should.
"The Coast Guard, shippers, terminal operators, and carriers are all saying that having multiple operational approaches is the way to go, and it is important to keep that flexibility in place in order to ensure a smooth implementation of the SOLAS regulation," he said.
The Ocean Carrier Equipment Management Association, one of the parties to the discussion agreement, said Thursday that while it welcomes Cordero's remarks, said "a one-size-fits-all approach may not work."
Jeff Lawrence, OCEMA's executive director, said he agrees that an efficient means to obtain VGM in the U.S. is for ports and marine terminal operators to weigh the containers and provide the VGM directly to ocean carrier stowage planners. He added, however, that not every port or marine terminal operator has the capability to do so.
"The existing methods and procedures for tendering export cargo and declaring container weights are already in compliance," said Cordero. "While I certainly applaud efforts to make the maritime transportation of cargo safer, I am increasingly struggling to fathom why the ocean carrier community has not fully embraced the equivalency declaration."
Contact Reynolds Hutchins at reynolds.hutchins@ihs.com and follow him on Twitter: @Hutchins_JOC.