BBC Chartering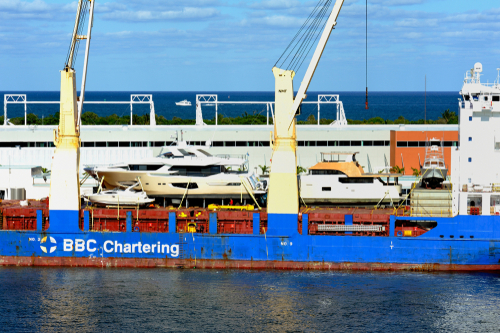 BBC Chartering GmbH, owned by Leer, Germany-based Briese Schiffahrt Group, is the world's largest multipurpose, heavy lift and project-shipping company, supporting its customers with a fleet of 170 specialized vessels in 2019. Its global organization helps charterers plan and execute transport assignments on tramp, affreightment and liner services around the world.
The BBC Chartering fleet portfolio ranges from 4,320 to 56,800 deadweight tons (DWAT) and features lifting capacities of up to 1,400 metric tons, depending on each charterer's needs for reliable, efficient, yet flexible transportation.
Ironically, BBC Chartering has contributed to the rapid global expansion of the container industry, even as BBC has strengthened its position in the heavy lift and project-shipping sector. As demand for container terminal has exploded, demand for gantry and harbor mobile cranes capable of transporting larger and larger equipment to those container ports has also expanded. But the huge cranes designed to handle containers do not fit inside container ships. However, BBC has responded to the challenge by providing a specialized fleet of project-cargo vessels designed to move behemoth-sized cranes used by container ports
The equipment used for transporting and handling such large cranes requires great precision and control, as well as enormous professional expertise to execute a stowage and securing plan that not only guarantees the safe arrival of the cargo, but assures safety of the vessel and its crew while they are at sea. BBC provides those services.
Ulrich Ulrichs takes the helm of prominent global MPV/HL carrier BBC Chartering as Svend Andersen steps down.

Ulrich Ulrichs, former CEO of Rickmers-Linie, which has since been absorbed by Zeaborn, will become CEO at BBC Chartering following a transition period.

Svend Andersen, CEO of BBC Chartering, tells JOC.com that despite an improving market, the multipurpose and heavy-lift (MPV/HL) sector remains under pressure from overcapacity and rising regulatory costs.