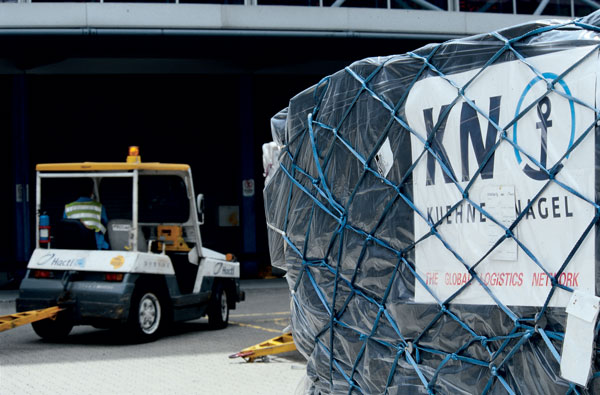 The air freight market out of Asia is taking off, with solid figures reported by terminals, carriers, forwarders and the semiconductor industry, which plays a significant role in driving air cargo growth.
Shanghai Pudong International Airport Cargo Terminal Ltd. reported record-setting numbers with international cargo volume up 15 percent in the first half. Exports remained in double digits, growing 14 percent in June after May's 16 percent rise in what the terminal called "the best results ever."
Air cargo at Hong Kong Air Cargo Terminals Ltd. was up 11.5 percent in the first half year-over-year, with exports up nearly 9 percent, even with the Cathay Pacific volume stripped out. Cathay Pacific last year shifted its entire cargo operation to its own terminal next door to the Hactl facility, taking 40 percent of throughput.
Hong Kong International Airport tonnage continued to rise in June, up 7.3 percent year-over-year, with volume totaling 361,000 tons. Exports were up 6 percent, and the airport noted significant growth to and from North America. First-half cargo volume was up 6.3 percent to 2.1 million tons.
With so much cargo flowing through the airport, Hong Kong's largest carrier was bound to take a large slice, and it did so. Cathay Pacific saw tonnage growth of 15 percent in June compared to the same month last year; its first-half tonnage was up 8.6 percent year-over-year.
"Cathay Pacific cargo is on fire" was how Michael Beer, Citi Research vice president for Asia-Pacific transportation research, described it.
Mark Sutch, Cathay Pacific general manager cargo sales and marketing, said demand remained robust out of Hong Kong and China, particularly on trans-Pacific lanes.
"The upswing in cargo demand seen in May continued through into June, with a surge toward the end of the month as shippers rushed to meet month-end and quarter-end deadlines," he said.
Two of the world's largest forwarders, Swiss-headquartered Kuehne + Nagel and Panalpina, reported their first-half results and the air cargo divisions are flying high.
Kuehne + Nagel said air freight volume grew 3.9 percent year-over-year and volume accelerated 3.5 percent on a sequential basis, according to BB&T Capital Markets. Panalpina's air freight volume rose 4 percent year-over-year in the first half. The forwarder expects full-year growth to be around 3 to 4 percent.
Optimism surrounding the encouraging results had the International Civil Aviation Organization weighing in with its own positive predictions. It believes the volume of worldwide air cargo will grow 3.7 percent in 2014, up from a negligible 0.3 percent in 2013.
The semiconductor manufacturing business is behind the growth in air cargo. BB&T Capital Markets said in a research note that semiconductor sales were 72 percent connected to air freight volume.
"The market remains well ahead of 2013, which was a record year for semiconductor revenue, and May marked the 13th straight month of year-over-year improvement," the note stated.
According to the Semiconductor Industry Association, worldwide sales were up almost 9 percent in May at $26.86 billion. Taiwan's export orders in June grew at the fastest pace in 18 months, rising 10.6 percent as the island's manufacturers boosted production to fill new smartphone orders.
Taiwan is one of the world's top exporters of electronic goods. Its Hon Hai Precision Industry's Foxconn unit is one of Apple's major suppliers. Production on the new iPhone 6 is expected to begin this month, according to media reports.
Contact Greg Knowler at gknowler@joc.com and follow him on Twitter: @greg_knowler.