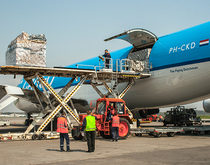 European airlines accounted for half of the increase in global air cargo traffic to a five-year high in 2016.

Europe's cargo airports are outperforming its ocean container ports.

Cathay Pacific has relocated its cargo-handling operations in Frankfurt to Lufthansa Cargo's terminal at Europe's biggest air freight hub.

Frankfurt airport, Europe's largest air cargo hub, saw traffic decrease 2.6 percent year-over-year in 2015, mirroring declines at third- and fourth-ranked Amsterdam Schiphol and London Heathrow.