Frankfurt Airport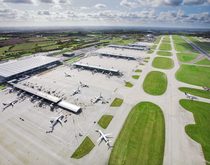 Strong and sustained air cargo volume pouring through Europe is having positive and negative effects on the airport gateways.

European airlines accounted for half of the increase in global air cargo traffic to a five-year high in 2016.

Europe's cargo airports are outperforming its ocean container ports.

Cathay Pacific has relocated its cargo-handling operations in Frankfurt to Lufthansa Cargo's terminal at Europe's biggest air freight hub.