British Airways World Cargo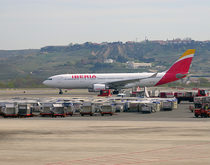 Traffic on the Europe-Asia Pacific routes surged 34 percent in the quarter driven partly by "sea freight restraints."

The competitive trading environment of 2015 continued into 2016.

As overcapacity and weak demand continue to plague the global transportation industry across modes, competition for cargo has only intensified.

A European Union court today overturned 790 million euros ($861 million) in fines against 11 airlines, including Air France-KLM and British Airways, for participating in a global cartel that fixed air freight rates.