Peter J. Rose, Chairman and CEO | Dec 29, 2013 9:30PM EST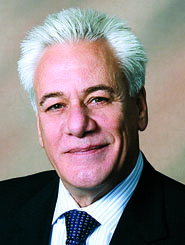 Personally, the biggest change in 2014 is the fact that in March I will pass the scepter to the new CEO, however, I will remain as chairman until May 2015. I realize this will send shockwaves throughout the industry, but a week later it will be, "Peter who?"
As relates to the entire industry, as said in the past, every year is an anomaly, and 2014 will be no different. The rules will change, more regulations will be passed, further bogging down an already depressed economy. On the bright side, things can't get much worse, and I believe there will be a slight increase.
Everyone talks about the shift from air to ocean transportation, however, this has been going on since the Wright Brothers' first flight. If there is any uptick at all, air freight will be at the forefront. World trade never stops, and there will always be a new gadget to launch for the air freight industry. One could only hope for more rate stability upon which companies could make better forecasts.
There are not many mergers left to be had, and our company certainly won't be one of them. 
Peter J. Rose is President of Expeditors International of Washington.