Werner Enterprises is an American transportation and logistics company that offers services in freight management, truck brokerage, intermodal, and international services. Founded in 1956 with headquarters in Omaha, Nebraska, the company reported 2013 revenue of $2.03 billion, up 0.3 percent year-over-year.
Werner Enterprises and its units employ more than 11,500 associates and independent contractors. The company offers a diversified portfolio of transportation services that includes dedicated; medium-to-long-haul, regional and local van; expedited; temperature-controlled; and flatbed services. With a fleet of 7,300 tractors and 24,000 trailers, the company provides services throughout North America as well as Asia, Europe, South America, Africa and Australia through ocean, air, and ground transportation.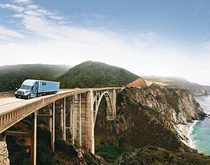 The fifth-largest U.S. truckload carrier is cutting some shippers loose as they seek deep rate cuts in a soft market.