USA Truck
USA Truck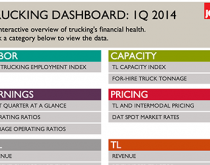 The first quarter was warmer for trucking than you might think — at least financially.

The Journal of Commerce Truckload Capacity Index rose unexpectedly in the third quarter to a four-year high, but that doesn't mean more tractor-trailers rolled onto highways and up to shipper docks. Instead, the leap in the index reflects a gathering concentration of capacity at the top of trucking's food chain, as larger motor carriers acquire and absorb smaller companies to secure drivers, equipment and freight revenue.
Knight Transportation is trying to acquire all of the outstanding shares of USA Truck, despite a recent rejection of its acquisition bid by USA Truck's board of directors...