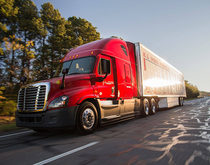 A new generation of leadership at US Xpress Enterprises plots a route through disruption, change to come.

The battle to recruit and keep truck drivers is heating up. As driver turnover at large truckload fleets spikes, more and more carriers are offering targeted pay increases.

Truckload carrier U.S. Xpress is offering a big pay hike to accident- and ticket-free solo truck drivers, a route other trucking companies may choose in 2016.