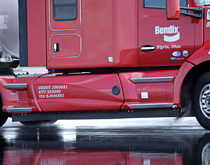 The automated truck won't arrive overnight, but evolve over time, as individual components prove themselves, Kenworth executives say.

Truck maker Paccar expects to sell more Class 8 tractors this year than last because motor carriers are enjoying higher rates and seeking more demand.

The truck leasing arm of Paccar plans gradual expansion across Australia as shippers and carriers replace the nation's aging heavy trucks and 'road train' tractors.

U.S.-based PACCAR is expanding its truck rental and leasing to Australia, where it plans to offer Kenworth and DAF trucks to private shipper fleets and carriers.