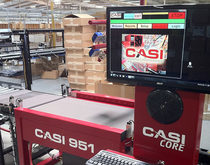 Freight costing "is a huge challenge," Estes Express Lines' chief operating officer told a technology conference.

Lower freight volumes drove YRC Freight to a loss in the fourth quarter, but the loss wasn't enough to erase gains the less-than-truckload carrier made throughout the rest of 2015.
Less-than-truckload shipments increased marginally in the first nine months of 2015, as freight revenue plummeted, thanks largely to the drop in fuel surcharges, SJ Consulting Group says.

The recovery at YRC Worldwide is gaining traction, as the company's regional and national subsidiaries reported stronger profits based on better pricing and freight mix. The company appears poised to emerge from eight years of annual losses, but executives warn its journey isn't over yet.