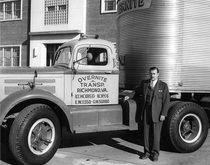 US trucking industry pioneer built one of the largest LTL carriers, now UPS Freight.

Third-party logistics providers already control about 25 percent of the less-than-truckload freight market, and that share is growing, as shippers look for 3PLs with assets and broad portfolios.

Jack Holmes, the career UPS executive who became president of UPS Freight in 2007, will retire in June. Rich McArdle, another UPS veteran, will take his place.

Thanks partly to its acquisition of non-asset truckload specialist Coyote Logistics, UPS is opening new routes into shippers' cross-border supply chains.