Pitt Ohio
Pitt Ohio
Pitt Ohio is a privately held transportation solutions provider that offers services in LTL, truckload, ground, and supply chain management. Founded in 1979 with headquarters in Pittsburgh, Pennsylvania, the company reported 2013 revenue of $430 million, up 11 percent year-over-year.
Pitt Ohio and its subsidiaries — Pitt Ohio Express, ECM Transport, and US Cargo — employ more than 2,300 individuals and operate a network of 21 terminals within the Mid-Atlantic and Midwest regions. The transportation company operates a truckload fleet of 239 tractors and 1,199 trailers, and a LTL fleet of 767 tractors and 1,892 trailers. Its services cover the continental United States as well as Canada.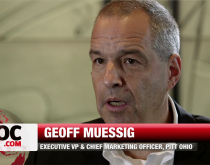 Pricing power and advances in technology are spurring innovation in LTL pricing, encouraging carriers to test out dimensional-weight pricing and other alternatives to class-based tariff rates as they seek more dynamic, flexible pricing models.

New NEMF President Tom Connery sees expansion ahead for regional LTL trucking company NEMF, not just in terms of service territory but new services, from port drayage to flatbed hauling.
Shippers have a new way to book less-than-truckload freight and compare LTL truck rates — an online LTL spot rate marketplace launched by uShip and 16 asset-based LTL carriers.