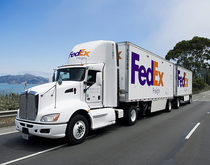 FedEx Freight's latest quarterly earnings show LTL rates rising in the early months of 2017.

Weak demand in the less-than-truckload market and higher-than-expected operating costs in its ground segment spurred FedEx to trim down its earnings outlook for 2016.

The 28 percent drop in retail diesel fuel prices in the second quarter cut shipper transportation expenses and boosted trucking profits, with the publicly owned motor carriers tracked by JOC.com increasing their combined operating profit by 13 percent. Higher sustainable profits in turn fuel the expansion of capacity needed by shippers.

FedEx reported its first quarterly loss since 2009, thanks to a $2.2 billion pension-related pre-tax charge that bit deep into earnings. Unfavorable exchange rates, a drop in international priority volume and low fuel surcharge revenue also stung the global transport operator.