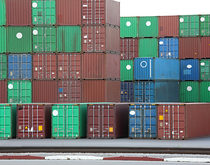 A shortage of ocean containers may spell transloading opportunity for US trucking companies.

Shipper demands for more integrated services helped spur merger of regional less-than-truckload carriers Central Freight Lines and Wilson Trucking.

UPS Freight is adding liquefied natural gas-powered tractors to its less-than-truckload fleet, cutting emissions and, hopefully, long-term term fuel costs. Shippers still want trucking partners to help them reach sustainability goals.