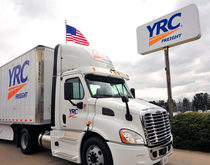 Large less-than-truckload carriers are rolling into 2017 on a firmer foundation and look to boost pricing.

ArcBest rode a company-wide wave of freight demand in the second quarter, with less-than-truckload carrier ABF Freight System and asset-light subsidiaries increasing revenue and profit. The asset-light businesses, however, grew faster than the asset-based LTL division.

Two of the largest publicly owned less-than-truckload carriers, Old Dominion Freight Line and ABF Freight System, reported stronger than expected freight demand in the early second quarter, echoing the mid-quarter report of truckload company Landstar System.

Carlos Martinez-Tomatis, ABF Global's Division Vice President, on the forecast for trans-Pacific volumes — increasing imports but flat exports — and challenges that can be met by utilizing more less-than-containerload shipping and bypassing distribution centers.