Top 50 Trucking Companies
Economic deceleration slammed the brakes on revenue growth at the largest U.S. trucking companies in 2015, sending many companies down the financial equivalent of a runaway truck ramp as inventories piled up, fuel surcharges dropped and freight demand slumped.
Year-over-year revenue fell in 2015 at 26 of the enterprises that made JOC.com list of Top 50 Trucking Companies, a sudden and sharp reversal from strong market growth in 2014, when revenue declined at only two carriers and grew by double-digits at 25 others.
Total Top 50 combined revenue increased only 3.1 percent from 2014, to $122.1 billion, compared with a 9.1 percent increase to $118.4 billion in 2014. That's the slowest annual growth rate for the Top 50 trucking firms since the end of the recession in 2009, SJ Consulting Group said.
JOC.com and SJ Consulting Group annually rank the 50 largest U.S. trucking companies and track the group's progress. This special topic page delivers the most recent JOC coverage of these 50 carriers.
Key Top Trucking ranking stories:
Top 25 LTL 2015: Revenue up 9.1 percent for 25 largest LTL carriers
Top 50 2014: Top 50 trucking companies rode their brakes in 2013
Top 50 2013: A first: Top 50 trucking revenue exceeds $100 billion
News & Analysis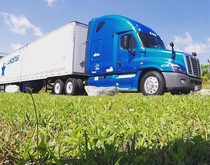 Even when volumes rise, lower revenue shows impact of reduced rates and fuel surcharges at publicly owned carriers.
Commentary

The average U.S. diesel pump price dropped below $2 per gallon for the first time since 2005 this week. With prices this low, perhaps its time for shippers and carriers to rethink fuel surcharges.