Top 50 Global Transportation Providers
The 50 largest transportation and logistics companies worldwide increased their combined revenue 2 percent in 2014 to $759.2 billion. The 2 percent gain by the 50 largest transportation service providers in 2014 marked a turnaround after the group's combined revenue dropped 0.1 percent in 2013. However, their growth was stronger in 2012, at 2.6 percent, and 2011, at 8.4 percent.
A healthier U.S. economy played a major role in pulling the Top 50 group out of the doldrums last year. Thirty-six of the Top 50 increased revenue in 2014, compared with 29 in 2013. Still, only five companies boosted revenue by double-digit percentages, down from six last year.
This year's list is the fourth annual ranking of the Top 50 Global Transportation Service Providers by SJ Consulting and The Journal of Commerce. The list ranks companies from five continents by revenue.
The global economy slipped again in 2015, however. The IMF expects global GDP to rise 3.1 percent this year, and to climb 3.6 percent in 2016. The current slowdown in the U.S. and worldwide this year should be evident in next year's rankings.
News & Analysis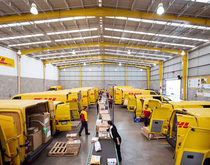 DHL has settled on its general rate increase for 2017.
Commentary
Numerous events over the last year will shape how the ranking of the world's top transportation and logistics companies looks at the end of 2016. UPS's reign as the world's largest transportation company may be short-lived, because several other companies are racing toward the top.