Steady increases in vessel capacity amid lackluster demand may dampen ocean carriers' ability to sustain higher rates during the coming peak season, and the expectations for the intermodal and trucking segments are likewise muted.
News & Analysis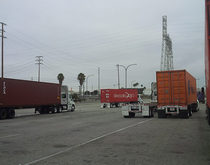 Terminal operators and chassis providers spar over cause of equipment shortages in Los Angeles and Long Beach.
Commentary
There will be a peak season, a little later than normal in the trans-Pacific, perhaps, and carriers could indeed reap the benefits of higher pricing.