The $5.25 billion expansion of the Panama Canal will either dramatically boost East and Gulf Coast container trade or disappoint their expectations of gaining more cargo. But the opening of much larger locks in early 2016 is already boosting prospects for more exports to Asia from U.S. Gulf ports of LNG, coal and grain cargos.
What is certain is that the doubling of capacity on the connector of the Atlantic and Pacific oceans will change the way the world¹s shipping lines ply their global routes when the project is completed. The doubling of the canal's capacity will allow shippers to bring their Asian goods to the Eastern and Gulf coasts for less money. That's largely because the new locks will be able to handle larger vessels that can carry nearly three times as many containers. The project is also expected to bolster Panama's strategic positions as a transshipment hub and business center for much of Central and South America.
For general developments at the Panama Canal, see also JOC's Panama Canal News page.
News & Analysis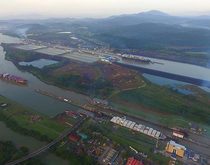 The Panama Canal Authority said increased rainfall has permitted an increase in maximum allowable drafts at the canal's new locks.
Commentary
The U.S. Army Corps of Engineers' channel assessment methodology based on national benefit/cost ratio is speculative and, in some areas, flawed, especially on the benefit side.