The International Longshoremen's Association and its employers at U.S. East and Gulf Coast ports are discussing an early, long-term extension of their coastwide contract that expires Sept. 30, 2018. The goal: an agreement that spares cargo interests an experience such as the one they endured during the epic 2012-13 bargaining between the ILA and United States Maritime Alliance. Those negotiations yielded a six-year contract, but only after nearly a year of rocky negotiations and repeated strike threats.
News & Analysis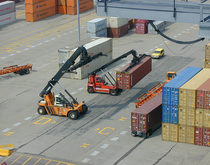 The International Longshoremen's Association won't discuss a contract extension until disputes over the current contract are resolved.
Commentary
Typically, once a U.S. longshore negotiation is settled, the affected ports revert to a state of normalcy despite whatever disruption occurred during the talks. U.S. West Coast negotiations over the past 20 years have never been without disruption but were always followed by near-normal operations that lasted in some cases for years. The six years leading up to the June 30, 2014, expiration of the recent agreement between waterfront employers and the International Longshore and Warehouse Union saw only sporadic disruption. But there is a difference between then and now: The current agreement reached on Feb. 20 failed to resolve all issues and one in particular — chassis maintenance — stands out as holding the potential for sparking further disruption and uncertainty for shippers.