2014 Annual Review & Outlook - Rail & Intermodal
2014 Annual Review & Outlook - Rail & Intermodal
2014 Annual Review & Outlook - Rail & Intermodal
News & Analysis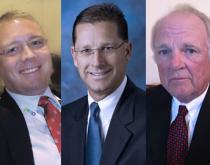 Three shippers discuss what they expect in 2014.

The North American intermodal market this year will likely be downright predictable compared to the volatility facing other transportation modes, particularly ocean shipping and air cargo. That's less-than-thrilling news for investors, but a dose of much-needed certainty for shippers tired of wild rate fluctuations and sporadic service from other modes.
Commentary
Despite the economic uncertainty the U.S. has experienced since 2008, domestic intermodal traffic in North America is growing robustly. Overall year-over-year volume growth through August 2013 was a healthy 6.8 percent. Domestic containers continue to see conversion from trailers in rail service — growing 9.7 percent, while trailer volumes shrank 2.9 percent, according to the Intermodal Association of North America, Yusen Logistics estimates and TTX fleet size data.