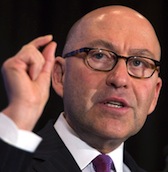 If there's one thing Americans can agree on, it's that we have a vast infrastructure deficit.  Across our country, roads crumble, bridges fall, schools decay. Fixing these, and so many other projects, is at the heart of government responsibility. But repairs cost money, lots of money, and for better or for worse, our current politics make it difficult for governments to raise taxes to finance these projects. 
We can't, however, give up. If we want to maintain and improve the prosperity we want for ourselves and our children, we must adopt new and creative methods to pay for the infrastructure we need. The key lies in enhanced cooperation between the public and private sectors, in substituting private money for some of the lacking public funds.
One way we can deal with this challenge is to take a page from our neighbors to the north. When I served as U.S. ambassador to Canada, I was struck by the fact that Canadian infrastructure was generally in much better shape than our own. A big reason for this is Canada's use of public-private partnerships — so-called P3s. P3s are designed to create investment in public infrastructure in a more sustainable way. The private sector assumes a major share of the financing, construction and performance risks, while the public gains the benefit of using the asset, remaining off the hook for cost overruns, delays and other problems. P3s can be used to finance virtually anything the public needs, from roads and rail to sewers and streetlights.
In the U.S., the overwhelming majority of jurisdictions have yet to commission even a single P3 project, despite the fact that more than half the states have enacted statutes that enable their use. In a recent presentation to the Council of Great Lakes Governors, I described two simple ways to help us to turn this situation around. 
First, we can expand the scope of so-called private activity bonds. In the U.S., bonds issued by states and municipalities are largely tax-exempt, so the interest rate paid on those bonds is lower than the rate paid on privately issued bonds. 
What this means is that if the state builds a project itself, the state can finance the project through tax-free bonds. But if the state employs a P3, the private developer must issue taxable bonds at a higher interest rate. This significantly increases the cost of the project, offsetting all the other benefits of P3s. The taxpaying public, however, shouldn't care who issues the bonds, as long as the bonds are being used to build the same public projects.
Private activity bonds fix this anomaly. Federal law creates an allocation of tax-free private activity bonds that private developers of P3s can use to reduce the interest cost on the projects. But the catch is that for the most part, those bonds can be used only for transportation projects. It's no surprise, therefore, that the vast majority of P3s in the U.S. are transportation projects.
Until the federal rules are changed to allow allocations of private activity bonds to finance schools, hospitals, courthouses, detention centers and other non-transportation projects, we probably won't see many of them built as P3s and we'll continue to bear the burden of aging infrastructure.  
The second way for us to increase the use of P3s is to increase the use by states of centralized procurement agencies. Such agencies are important for two reasons: They create government champions for all kinds of P3 projects, and they allow the necessary expertise to be shared across government agencies that could benefit from P3s.
In Ontario, Canada, the creation of such an agency (Infrastructure Ontario) is a good part of the reason why the province has completed 79 P3 projects since 2005, valued at more than $30 billion — probably more than all 50 states combined. A few states, notably Michigan, have started down this road, but if we are to see P3s proliferate, more states must adopt the Ontario model.
P3s represent a great way for us to afford to modernize our aging infrastructure. The time for action is now. Jobs, opportunities and prosperity depend on it.
David Jacobson, vice-chair for BMO Financial Group, served as U.S. ambassador to Canada from October 2009 to July 2013. Contact him at david.jacobson@bmo.com.