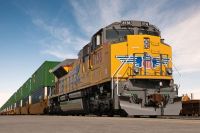 Union Pacific Railroad is a U.S. Class I railroad owned by Union Pacific Corporation operating 31,800 route miles of track and covering 23 states in the western two-thirds of the United States. The railroad operates from all major U.S. West Coast and Gulf Coast ports to eastern gateways, connects with Canada's rail systems and is the only railroad serving all six major Mexico gateways.
UP operates 8,300 locomotives and employs 46,500 individuals, providing service to approximately 10,000 customers. The company reported 2013 revenue of $22 billion — up 5 percent year-over-year.
The Omaha, Nebraska-based railroad was incorporated in 1862 under the Pacific Railroad Act of 1862. The company has grown by acquiring other railroads, including the Missouri Pacific, Chicago and North Western, Western Pacific, and several more. UP also owns 26 percent of Mexico-based Ferromex.
The company recorded second quarter 2014 revenue of $6.02 billion, up 10 percent from year-earlier revenue of $5.47 billion. 2014 half-year results included total revenue of $11.65 billion, up 8 percent from the previous year.
Union Pacific Railroad has added 11 intermodal train starts between Northern California and Portland, Oregon, and Chicago in 2014, in hopes of grabbing business from key competitor BNSF Railway. Its new services are geared to domestic intermodal volume and build on the success UP has had in handling more 53-foot container traffic.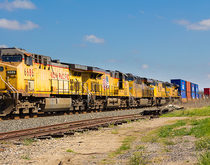 Union Pacific brings domestic intermodal rail to the ICTF near LA-LB ports.