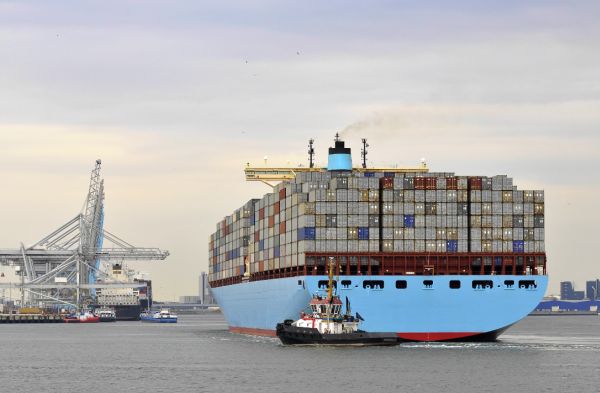 In a market where east-west ocean service is becoming a port-to-port commodity, Maersk Line is taking steps to stand out from the rest of the pack by branding its service beyond the ocean voyage.
It kicked off its branding campaign a year ago with a customer charter that set eight key goals of customer service that it would measure against a set of benchmarks. Now, having made substantial progress toward those goals, it is starting to integrate its customer care program across all regions around the globe so it can measure the customer service it provides by shipper and by shipping segment, such as apparel, paper or reefer, for example.
"We use benchmarking as a way of keeping score of how we are doing as to whether a customer is on care or not on care in that program," said Stephen Schueler in an interview with the JOC. He was hired as Maersk Line's chief marketing officer in June 2013 after a 20-year career with Procter & Gamble.
Maersk's benchmarking shows it met its 2013 target of answering all calls by North America customers within 30 seconds a full 100 percent of the time.
"When you call, we pick up the phone within three rings. We enter a customer code and all their information comes up on screen," Schueler said. "That enables us to be proactive in solving your problems. This is how we want customer service to be a differentiator going forward."
Schueler has an unusual assignment within Maersk: As the Copenhagen-based executive overseeing customer service, sales, brand operations and customer intelligence, he is charged with turning Maersk's name, now known for ocean transportation, into a brand that stands for global transport services, including inland delivery and reliability. Although most of his experience at P&G was with retail branding, he will be applying that experience in the business-to-business market.
His new responsibilities reflect a growing trend among B2B marketers to use branding in crowded business markets as a way to establish a reputation for quality, according to the CEB Marketing Leadership Council. Business customers who see a supplier's value are four times more likely to consider that brand in the future, but the problem is that buyers perceive little difference amongst the business value that various suppliers can offer, according to a CEB survey.
"We are becoming more and more customer-centric," Schueler said.
To that end, Maersk is in a continuous dialogue with its shipper customers on how it can improve its service.
"We talked to a couple of hundred customers to get their definition of what good customer service is," Schueler said. "That's how we came up with the eight goals. We have made progress on these goals."
In addition to the phone accessibility he cited above, the goals included booking cargo within a two-hour turn time, where it met its goal in North America 91.7 percent of the time; resolving disputes within seven days, where it met its goal 91.6 percent of the time; documentation accuracy within eight hours (99.4 percent); turnaround time for documentation (98.4 percent); pre-arrival notification within 24 hours (99.9 percent); invoicing accuracy (94.8 percent); and resolving service issues within 12 hours (74.5 percent).
Having largely met these initial goals, Maersk is changing its marketing program.
"We changed our marketing to promises delivered," Schueler said.
Now it is trying to integrate its customer care service across all regions by segments, based on such criteria as the size of the shipper's volume and the type of commodity being shipped. Large shippers will get a dedicated customer service contact in each region, which will be aligned with other customer service contacts in other regions. It also plans to provide customers in each of these segments a record of how it met its eight goals with regard to that individual customer.
"Originally we brought our customer charter goals out by country," Schueler said. "Now we are breaking it out by customer so we will be able to give individual customers their charter numbers."
Contact Peter Leach at pleach@joc.com and follow him on Twitter: @petertleach.