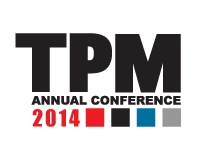 LONG BEACH, Calif. — INTTRA is launching a new program that will enable small shippers to get better visibility into their supply chains and also help carriers clean up errors and gaps in the data they collect on container movements. The result, INTTRA says, will provide substantial time and cost savings for both.
The program, which comprises a monthly carrier scorecard, the INTTRA Insights Platform for Visibility, and INTTRA Ocean IQ professional service engagements, was created in conjunction with ocean carriers to provide them with a standardized measurement system for global shipment data.
"We will offer a visibility solution to all size shippers," said Sandra Moran, chief marketing officer of the e-commerce network for ocean shipping, in an interview with the JOC at its 14th annual TPM conference here. "Unless you're an enormous shipper, you can't get all of the container status messages loaded into one place, so shippers have to log onto the carriers' websites and look up the data."
She said the new INTTRA program will enable small shippers to look up the whereabouts of their containers through the data it collects from carriers. "Because the carriers are already connected to INTTRA, all of that data is already routed through INTTRA," Moran said. "So a whole market of shippers who could not access that data will now be able to get it through INTTRA. It will allow the shippers to self-service their own information, and this is a cost-saving for carriers," she said.
The company will charge shippers for this data based on the volume they ship.
"As part of launching a product that is going to such a broad customer segment, we didn't want to leave data quality to chance, so we created a program to improve data quality that started with measuring the data based on completeness, accuracy and timeliness," she said. "First we measure whether we captured data on all the events we were expecting, then we measure the  accuracy of the data on whether it went to the right shipper, and on whether it is delivered on a timely basis."
As part of the data collection program, INTTRA gave carriers a way to improve their data quality. "We created tools that enable carriers to drill down through their data to find any data issues that they have," Moran said. "As a result we've identified which of the carriers have data quality in terms of completeness."
INTTRA has been giving carriers a scorecard on their data accuracy since last September and helping them with changes they should make. Moran said the program has already improved carrier data quality by 11 percent as measured by completed shipments.
The first published results ranked three carriers as providing the highest quality data:
APL
Hapag-Lloyd
United Arab Shipping Co.
The rankings were derived from analysis into the shipment status events matched with the transport plans provided to shippers on the INTTRA network. This provides all carriers on INTTRA's global e-commerce platform with a full view into data quality using completeness of information, as well as data measured from specific event milestones, regions and ports/terminals.
Moran said the program allows it to rank regions by the quality of the data supplied by ports. "If five carriers are getting great data from a port, and one isn't then we know to shift the emphasis to that carrier' systems, but if everybody is getting poor data from that port, then it could be something systemic inside the terminals there."
The top five regions scoring the best information quality, measured by completeness of data, are:
Hong Kong
Chile
Thailand
Canada
Australia
The five regions scoring the worst data quality figures, measured by completeness of data, are the following:
China
Turkey
United States
South Korea
India
"It's related to the percentage of total shipments, so even though China has so many shipments, the reason they are appearing on the list is that their percentage of shipments is awful," Moran said. "
Overall, the top five best scoring regions for information quality represent 5 percent of total incomplete shipments, while the five worst regions represent 47 percent of the volume of total incomplete shipments.
"If we can drive some change in a small number of countries, we would improve the overall data quality significantly," Moran said. "That's really what the initiative is about."
Contact Peter Leach at pleach@joc.com and follow him on Twitter: @petertleach.