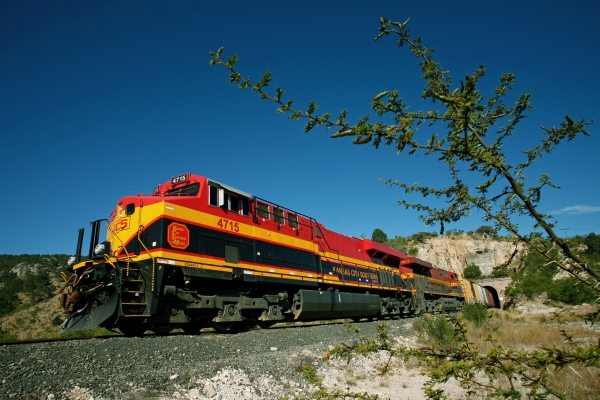 Kansas City Southern Railway expects a surge of business from three new Mexican auto plants will come later than originally anticipated, as the Nissan, Honda and Audi plants are slated to produce only half their full capacity this year.
The plants are expected to produce about 300,000 units this year, compared to their total capacity of 614,000 units, said KCS spokesman Doniele Carlson, quoting production estimates from the carmakers. The disclosure last week to investors that auto output wouldn't ramp up until later coincided with the railroad pushing back its expectations for growth tied to U.S oil exports out of Port Arthur, Texas, and natural gas production in Mexico.
"We are inclined to respond to management's revelations by saying, "Welcome to the real world," said John Larkin, managing director at the Stifel Transportation & Logistics Research Group, in a research note. " But, instead (we) will compliment management on finally laying out a reasonable, real world scenario for the development of the growth projects that lie along the company's network in the U.S. or in Mexico."
KCS President and CEO David Starling told investors that the railroad in 2014 expects mid single-digit volume growth, high single-digit revenue expansion and overall core pricing to outpace inflation. The new plants won't begin to significantly deliver volume on the KCS network until the second quarter, and business from the plants will rise over the next two to three years, the railroad told investors on Jan. 24.
Nissan's Aguascalientes plant opened late last year and has an estimated annual capacity of about 149,000 vehicles. Honda's Celaya plant, which will have annual capacity of 280,000 vehicles, is slated to open next February, while Mazda began production at its Salamanca plant, which has an annual capacity of 185,00 vehicles, in January. Mazda plans to boost the plant's annual capacity to 230,000 vehicles in roughly two years, according to a company news release. Audi is also slated to open a plant with an annual capacity of 150,000 units in San Jose Chiapa in spring 2015.
KCS's cross-border network, which connects to the other six Class I railroads, has access to nine other auto plants, including those that produce Ford, GM, Volkswagen and Chrysler units. Auto manufacturers have moved production to Mexico for competitive labor prices and accessibility to the North American market. Japanese automakers are also drawn to the country because of the favorable exchange rate between the peso and the yen.
Auto suppliers have followed the auto plants in setting up shop. White goods makers and electronics producers, such as Whirlpool and Foxconn, respectively, are also increasingly producing in Mexico for the North American market. Manufacturers in Mexico can also tap the country's growing middle class and export to Latin America, thanks partly due to the country's numerous free trade agreements.
Mexican auto manufacturing growth fuels demand not only for KCS to hauling of autos and containers but also bulk materials needed for production. Mexico is also a major importer of grain, with KCS's export grain revenue in the fourth quarter jumping 106 percent year-over-year. Weak business in the period in 2013 was part of the reason for the dramatic jump.
As a result of rising U.S.-Mexico trade, the railroad saw total cross-border revenue in the fourth quarter increase 30 percent year-over-year to $161 million, and cross-border intermodal revenue jumped 64 percent in the same period. The company doesn't disclose intermodal cross-broder revenue. Total intermodal traffic in the last three months of 2013 rose 3.4 percent to 243,000 units, while intermodal volume in the full year expanded about 5.7 percent to 966,000 units.
The gains in volume, along with strong pricing, lifted intermodal revenue 17.5 percent in the fourth quarter to 94 million, while full-year intermodal revenue jumped 16.2 percent to $357 million. Profit in 2013 for the smallest Class I railroad in North America fell nearly 6.9 percent year-over-year to $353 million, despite revenue rising 5.8 percent to nearly $2.4 billion. But profit in the fourth quarter rocketed 24 percent year-over-year to $114 million, as revenue hit a record $616 million.
KCS said it plans to expand cross-border intermodal service this year so that the railroad can be more competitive with trucking. KCS hasn't disclosed its projected capital investments for 2014, but the railroad told investors the amount will slightly more than it spent last year.  Still, Starling said the capital spending for this year will outpace the industry average of 17 to 18 percent of total revenue.
The railroad is expanding capacity on its cross-border network by building and extending sidings at Los Chivos, San Cristobal, Melchor Ocampo, Corondiro and Lazaro Cardenas, Starling said in a December letter to employees. The railroad is also expanding the Sanchez Yard, near Nuevo Laredo, and its terminal at Interpuerto San Luis Potosi. Work will also continue to provide double-track capacity between Sanchez and Nuevo Laredo, he said.
Starling in addition told employees that the company would expand its intermodal terminal in Kendleton, Texas, and build a new facility in Wylie, Texas. The railroad also hopes to benefit from the opening by Bulkmatic, a dry bulk carrier and trucking company, of its seventh transload terminal on the KCS network.
"Over the last three years in Mexico, KCS has made a concerted effort to repurpose underutilized concession real estate for the development of transload terminals with similar deals in Matamoros, Monterrey, Saltillo, Queretaro and Nueva Italia," Starling said. "Transload terminals are a vital link between KCS' rail service and shippers without direct access to the track, making them a great truck conversion tool."
Contact Mark Szakonyi at mszakonyi@joc.com and follow him at twitter.com/szakonyi_joc.