The JOC Group will hold its 14th Annual TPM Conference in March, with significant issues — from the emergence of new mega-alliances to upcoming West Coast longshore labor talks — being front and center at this year's event.
Although carrier vessel-sharing agreements have existed since the 1970s, the unprecedented scope of recently formed alliances like the G6 and P3 has raised concerns among many industry players. Hapag-Lloyd and CSAV are also reportedly in merger talks, which would create the fourth largest global container carrier. What will this trend mean for shippers and other major players in the trans-Pacific trade lane?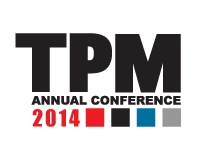 Following a keynote address by FedEx's CEO Fred Smith, a panel on the first day of the three-day TPM 2014 conference, titled "Dawn of Mega-Alliances: Who Benefits?" will discuss whether shippers should be nervous or not about the new, unprecedented sizes of these alliances, and what they will mean for global container movements. The panel will feature Klaus Schnede, manager of procurement for marine, air and facilities at Eastman Chemical; Adam D. Hall, director of international logistics at Dollar General; and Lars Jensen, CEO and partner of SeaIntel Maritime Analysis, as well as moderator Peter Tirschwell, executive vice president and chief content officer at JOC.
Other panels on the first day of the conference will include discussions of the container shipping industry's service contract negotiations, instability in the freight rate market, supply and demand outlook and economic indicators, sourcing challenges and possible regulatory roadblocks in 2014.  
The second day of the conference will kick off with several panel discussions on the upcoming International Longshore and Warehouse Union negotiations, which will begin this summer. In 2002 and 2008, West Coast ports were seriously impacted by slowdowns and shutdowns resulting from difficult negotiating environments. Will that happen again this year? Conference speakers will address what importers and exporters can expect this time around.
James McKenna, president and CEO of the Pacific Maritime Association, and JOC Senior Editor Bill Mongelluzzo will get the conversation started by talking about employers and dockworkers' agendas.  
"The ILWU contract negotiations will most likely focus on pensions, health care benefits and jurisdiction," Mongelluzzo said. "While these issues are no less important than the work rule and technology issues that dominated the 2002 and 2008 negotiations, the 2014 issues will be difficult for the two sides to get their arms around."
A second, more detailed discussion on the ILWU negotiations will follow, featuring panelists Michael H. Belzer, program director at Wayne State University's Department of Economics; Donald D. Crosatto, senior area director of International Association of Machinists District 190; Sam Ruda, chief commercial officer at the Port of Portland; and Chris Viramontes, president of ILWU Local 13. They plan to discuss jurisdictional issues in depth, from historical and contemporary perspectives, according to Mongelluzzo, who will moderate the panel. 
"Jurisdiction is a huge issue for all unions today, especially the ILWU, which has been struggling with jurisdictional issues in almost every port on the West Coast," Mongelluzzo said.
Other sessions on the conference's second day will include talks about important factors for importers and exporters in choosing Panama Canal versus Suez Canal routes, how terminal productivity issues impact supply chains, what shippers need to know about port drayage challenges in the upcoming year and legislative changes on the horizon.  
The last day of the conference will spotlight five real-world case studies presenting a customer or beneficial cargo owner speaking alongside one or more logistics partners. They will describe how supply chain problems are solved and how money can be saved. The case studies will specifically feature Voxx International's Sea-Truck program, Leggett & Platt's transportation management system, Chrysler and its ocean container supply chain partners, Lowe's new chassis fleet and 53-foot containers at Toys R Us.
Additionally, JOC is offering panels specifically tailored for shippers and other stakeholders in the reefer cargo business. These talks will report on the increasingly lucrative perishables trade; new challenges for the industry, including food safety and demographics changes; and where rates are headed in the coming year.
With no shortage of major challenges confronting the container shipping industry in 2014, JOC's 14th annual TPM conference will spotlight trends in international logistics using expert analysis from 60 speakers, including the JOC editorial staff, featuring data-driven forecasts and best practices. JOC expects that at least 2,000 attendees, including about 500 shippers, will attend the spring conference. For details, check out JOC's TPM 2014 registration page.