W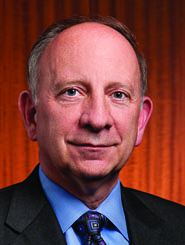 e're hearing from economists and customers that 2014 will probably continue along the slow, steady growth path. The rail industry remains a steady leader, bolstering the economy by providing well-paying jobs and supporting other industries by delivering goods that keep America moving.
Railroads contribute to the economy in many ways, perhaps the strongest being capital investments. We reinvest at five times the average manufacturer rate and spend our own funds — not taxpayer dollars — to build and maintain a safe, reliable and efficient rail network.  
Drivers such as global economies, energy supply and demand or even weather conditions can cause fluctuation in various business areas, but our industry has a proved record of being well-prepared for these changes so we can continue to provide the specific capacity and service our customers need.
For example, as the automotive industry has rebounded, the railroads have been there to support the recovery. And take the agricultural business, where we saw a significant drop in grain shipments because of the 2012 drought. Fast forward one year and a bumper crop later, we are quickly responding to the record harvest.
Five years ago, the majority of crude oil moved from production areas to refineries by pipeline. Since 2008, U.S. Class I railroads have originated 400 percent more carloads of crude oil, supporting America's energy independence efforts. 
With the most affordable freight railroads in the world, our industry saves American consumers billions of dollars each year. Adjusted for inflation, average U.S. rail rates (based on revenue per ton-mile) fell 44 percent from 1981 through 2012. That means the average rail customer today can ship nearly twice as much freight for the same price it paid 30 years ago. 
Jack Koraleski is President and CEO of Union Pacific.