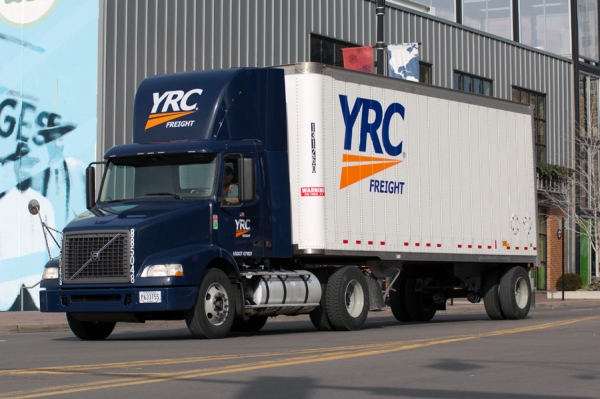 YRC Worldwide's Teamsters employees will decide whether to extend wage concessions until March 2019, helping the trucking giant to refinance its debt and avoid bankruptcy.
The less-than-truckload operator's lenders are demanding an extension of the concessions and a more "competitive" contract as a prerequisite to refinancing $1.36 billion in debt.
Teamsters local leaders representing YRC Worldwide's 26,000 union employees agreed Dec. 6 to put the struggling trucking company's latest proposals to a vote, starting Dec. 10.
Ballots will be mailed out on that date and counted on or about Jan. 8, 2014, the Teamsters union said. Local leaders met with national officials today to discuss the proposals.
YRC Worldwide, the second-largest U.S. trucking operator after FedEx Freight, is struggling to return to profit while balancing a heavy debt load, the result of acquisitions a decade ago.
The LTL carrier, which has lost more than $3 billion since 2006, has not yet released its proposals, so it's not known exactly what concessions or changes are on the table.
YRC Teamsters agreed to a 15 percent cut in wages in 2009 and 2010, as well as a long-term reduction in pension contributions, concessions that were extended in 2010 through 2015.
Those concessions save YRC Worldwide hundreds of millions of dollars a year. YRC's lenders have made extended concessions a prerequisite to refinancing the trucking company's debt.
YRC said its proposal would not reduce wages, health or pension contributions for current employees, and would provide "operating flexibilities" — possibly less restrictive work rules.
The company will begin holding meetings with employees this weekend to discuss the proposal.
The Teamsters union said the agreement also would allow for the conversion of $200 million in debt to stock — the third time in recent years YRC Worldwide has swapped debt for equity.
Citing "enormous sacrifices" already by YRC workers, the Teamsters union isn't recommending a "yes" or "no" vote, Teamsters National Freight Division Director Tyson Johnson said.
"After much debate, local union officers voted to allow the company's proposal to go before members so that they can cast a secret-ballot vote," Johnson said in a statement.
If YRC Teamsters approve the package, the company is likely to quickly sign an agreement with its lenders and return its attention to rebuilding money-losing national carrier YRC Freight.
The long-haul LTL carrier stumbled this summer while implementing a terminal network restructuring plan designed to build density and reduce number of times shipments are handled.
YRC Worldwide has reduced losses substantially since CEO James Welch arrived in 2011, but is still far from being in the black. The company lost $44.4 million in the third quarter.
Most of YRC's troubles are at YRC Freight, but the company's rapidly rising interest expense on debt also threatens its survival. YRC Worldwide paid $43.1 million in interest last quarter.
YRC's three regional LTL operating companies — Holland, New Penn and Reddaway — returned to profit in 2010 and doubled their combined net income last year to $70 million.
Contact William B. Cassidy at wcassidy@joc.com and follow him at www.twitter.com/wbcassidy_joc.