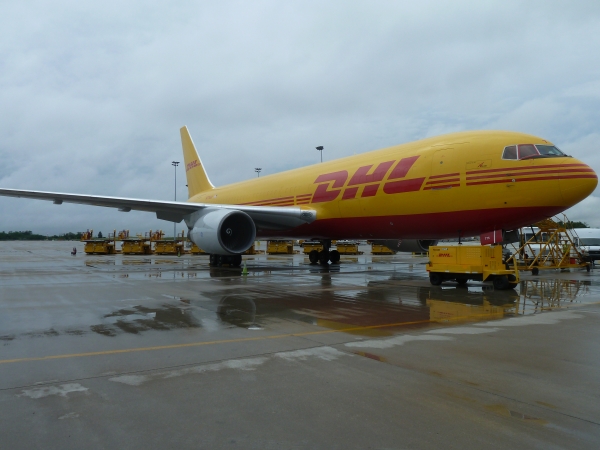 Deutsche Post DHL's third quarter earnings rose 6 percent from a year earlier on strong growth in its domestic parcels and global supply chain units.
Net income reached 399 million euros (about $536.8 million), against 377 million euros ($507.1 million) in the third quarter of 2012, and earnings before interest and taxes were 6 percent higher at 646 million euros ($868.8 million).
Europe's largest logistics company saw revenue dip 2.5 percent to €13.5 billion due largely to negative exchange and other inorganic effects. Adjusted for these factors, revenue increased €500 million.
"With our successful performance in the still hostile environment, we have demonstrated the fundamental strength of our business model once again and are reaping the fruits of the investments we have made in the past," said Frank Appel, CEO of the Bonn-based company. But "it will be a tough ride until the end of the year," he added. "We have the right measures in place, but nevertheless, since we don't expect any upside from the economy, it will be challenging."
Parcel shipments in Germany grew 8.7 percent in the quarter to 238 million units, reflecting the continuing surge in online shopping in Europe's largest economy.
DHL Express revenue slipped to €3.1 billion from €3.2 billion a year earlier but rose by more than 5 percent after adjusting for the strength of the euro against other currencies, including the U.S. dollar, on above-market volume growth across all regions. Earnings before interest and taxes jumped 13.9 percent to €263 million.
The global freight forwarding unit's revenue declined 7.6 percent to €3.7 billion due to the continued weak market environment, but was down just 2 percent after stripping out the impact of the strong euro.
Ocean freight revenue shrunk as volume declined 2.4 percent to 733,000 20-foot-equivalent units with lower Asia-Europe shipments outweighing a slight increase on north-south routes.
Air freight revenues and volumes also declined because of weakening demand from some major customers in the technology, engineering and manufacturing sectors.
Earnings climbed, however, to €127 million from €122 million on strict cost controls and a selective market strategy.
Reported supply chain revenue was down €200 million to €3.5 billion but grew 6 percent, or nearly €250 million, after adjusting for currency swings, on strong growth in the Asia-Pacific region and in the life sciences, healthcare, automotive, consumer and technology sectors.
Operating earnings fell to €100 million, the highest quarterly figure this year, from €110 million in the same period in 2012, due to the weak European market.
The company reiterated its forecast for full-year earnings before interest and taxes of between €2.75 billion and €3 billion.