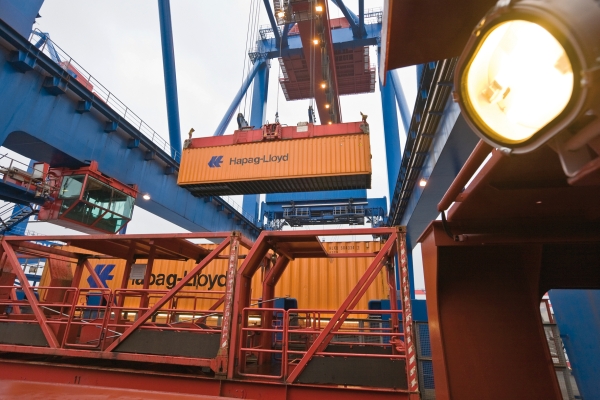 Hapag-Lloyd's third quarter profit plunged more than 60 percent from a year earlier as weak peak-season freight rates outweighed increased container volumes.
The German ocean carrier's net income fell to 16.6 million euros ($22.2 million) in the three months through end-September from 45.6 million euros ($61.1 million) in the 2012 period.
The Hamburg-based carrier said it managed to stay in the black as a result of "substantial" cost reductions.
The average freight rate in the quarter was $1,476 per standard 20-foot container, down from $1,647 in the third quarter of 2012. In contrast, traffic grew 8.6 percent to 1.39 million 20-foot-equivalent units from 1.28 million TEUs.
Revenue dipped to €1.66 billion from €1.76 billion last time, due largely to exchange rate effects.
Operating profit shrunk to €57.2 million from €69.7 million in the third quarter of 2012.
The world's fifth-largest carrier reiterated its forecast for positive full-year earnings. "The freight rate developments in the third quarter, the peak season for the liner shipping industry, were very disappointing," Chief Executive Officer Michael Behrendt said in a statement. "But as in the second quarter we were able to offset the adverse impact this had on earnings with additional cost reductions."
There has been no-let up in the pressure in the seasonally weak fourth quarter. "The irrational behavior in the industry, which once again caused rates to drop drastically in October, is totally incomprehensible," Behrendt said.
For the first nine months of the year, Hapag-Lloyd narrowed its net loss to €56.1 million from €94.1 million a year earlier on revenue down 2.7 percent at €5.02 billion.
Traffic grew 3.6 percent in the first three quarters to 4.1 million TEUs, but this did not fully offset the decline in the average freight rate to $1,506 per TEU from $1,574.