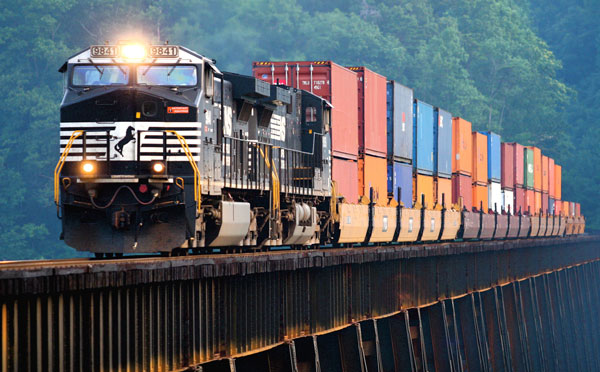 For investors, Canadian and U.S. intermodal growth isn't the story anymore; it's all about pricing. That's the impression analysts gave this month during third quarter earnings calls with the seven Class I railroads.

Investors have always been curious about carload and intermodal pricing, but the increased focus suggests that Wall Street is cluing into what major shippers already know: Domestic intermodal has to be increasingly competitive with trucking, and with less international traffic growth, competition between railroads may have escalated. Improving operations metrics — from reduced terminal dwell times and faster trains — suggests that shippers will at least see better service even if pricing isn't as competitive as they'd like. Intermodal rates are generally between 5 and 20 percent cheaper than trucking prices, depending on the length of haul and how competitive motor carriers are on the lane.
Railroads' ability to price aggressively and still increase their volume appears to be working. Class I intermodal revenue in the third quarter, excluding privately held BNSF Railway, rose 4.5 percent year-over-year in the third quarter. Meanwhile, U.S. and Canadian intermodal volume growth is speeding up, as international traffic has re-entered an expansion trajectory, albeit not as healthy as domestic volume gains.

Total intermodal volume rose 4.7 percent year-over-year in the third-quarter, following a modest gain of 2.4 percent in the second quarter, according to preliminary data from the Intermodal Association of North America. Domestic volume gains in the July, August and September period slipped slightly to 7.7 percent, after growing at a 7.8 percent clip in the second quarter. The mild slowdown was more than offset by a 2 percent gain in international traffic, a significant bounce back from the nearly 1 percent volume loss in the April, May and June period.
"Intermodal continues to be a competitive market, and we're competing with the highway predominantly," Donald Seale, executive vice president at Norfolk Southern Railway, said during an Oct. 23 earnings call. "We will continue to price in a marketplace where we can be competitive, generate a sufficient margin for reinvestment in our assets and our network, and continue to provide the type of service that our customers expect."

Railroad executives were quick to point out that they were steadily increasing core pricing and not easing rates to grab market share. Seale, for example, said NS was pleased with the 1.5 percent gain in revenue per intermodal unit experienced in the third quarter. The metric is an indicator of rail pricing but not an entirely reliable one because railroads are regularly hauling intermodal loads shorter distances as their services become more competitive with trucking.

Determining just how much of the railroads' price increases are passed on to the shipper is difficult, as intermodal marketing companies have been challenged by the lack of anticipated truck rate growth.  Hub Group intermodal pricing struggled because "excess capacity remains in the truckload market and because the company did not see a traditional spike/uptick in volumes in the back half of" the third quarter, John Larkin, a managing director and head of transportation capital research at Stifel Nicolaus, said in an Oct. 18 research note.
 
Hub competitor J.B. Hunt Transport Services saw flat revenue per load growth in the same period. But the company's nearly 65,000 domestic container fleet and strong arrangements with the railroads gives it "virtually insurmountable cost advantages over its intermodal competitors," Larkin said in an Oct. 15 note.
Two major intermodal pricing indices reflect the challenges IMCs face.  All-in intermodal costs in September fell 5 percent year-over-year and 1.2 percent from August, according to Cass Intermodal Systems. Intermodal spot pricing for 14 of the top U.S. lanes fell 2.1 percent in the last five weeks ending Oct. 21, according to data on all-inclusive 53-foot door-to-door spot pricing quoted by railroads and provided by IDS Transportation, a third-party logistics firm.
Executives emphasized intermodal volume gains were a result of customers' organic growth and increased highway convesions, not the most recent wave of federal regulation hitting the long-haul trucking industry. Schneider National this month blamed new truck driver hours of service regulations — which starting July 1 added a mandatory daily break and made it more difficult for truckers to take a 34-hour restart between work weeks — for a 3.1 percent drop in productivity for solo shipments and a 4.3 percent drop for team operations.

But others aren't seeing that big an impact. "I think what I've seen, and what our intermodal people have seen, is that the hours of service law has really had negligible impact on the trucking industry," said Clarence Gooden, CSX Transportation executive vice president and chief commercial officer, said during an Oct. 16 earnings call.

Moderate international intermodal growth appears to have heightened pricing competition among railroads, however. Consider the differing explanations Canadian Pacific Railway and its archrival, Canadian National Railway, gave for the former losing three major shipping contracts — MOL and APL this year, and OOCL in 2014 — to the latter, according to various reports.

"When service is not a factor, and it's just who is going to give the lowest price, that's when you win the business and we decided not to go that low," CP CEO E. Hunter Harrison said during an Oct. 23 earnings call.
CN CEO and President Claude Mongeau told investors a day earlier that the contracts were won because of improved service, not pricing.
Either way, intermodal shippers on both railways appear to be getting better service — and investors are heartened by lower operating ratios. CP's operating ratio improved from 820 basis points to 65.8 percent, as train speeds quickened by 2 percent and terminal dwell time fell 3 percent on a year-over-year basis. CN, the most profitable North American railroad, saw its operating ratio fall 80 basis points to 59.8 percent, while terminal dwell time improved by 5 percent and the average speed of trains, including carload trains, inched up 1 percent.
 
Behind those improved operation numbers, the railroads, particularly CN, are making it clear to investors that they know what it takes to be a key link in global supply chains.
 
Shippers "need more destinations. They need good transit time to promote asset efficiency, and they need matchback," Mongeau said. "That's exactly what our strategy is designed to provide."
Contact Mark Szakonyi at mszakonyi@joc.com and follow him at twitter.com/szakonyi_joc.