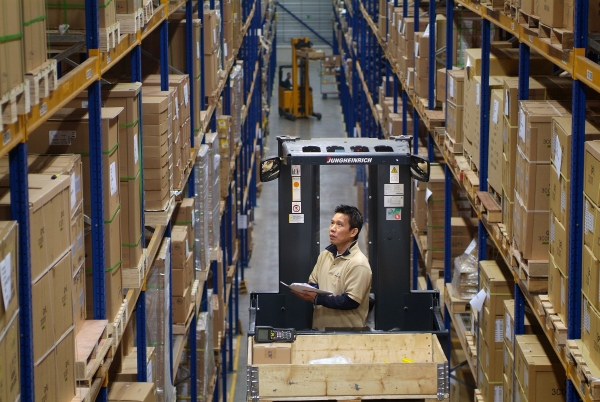 Third-party specialists in domestic shipments are expanding beyond basic freight brokerage into the transportation systems management.
This shift is the most striking current trend in third-party logistics, said Dick Armstrong, chairman of Armstrong & Associates, the Stoughton, Wis.-based consultant specializing in 3PLs. "Domestic transportation management is the 3PL segment where we're seeing the most innovation," he said.
Upstarts such as Coyote Logistics and Echo Logistics are parlaying their freight brokerage business into software-based systems management for customers. Both companies get approximately 40 percent of their gross revenue from "enterprise" customers.
"We weren't even talking about these guys 10 years ago, but here they are. They're growing like crazy. You can call them the new wave," Armstrong said. He expects 3PLs to continue to expand their foothold in this market.
Bigger, long-established companies such as C.H. Robinson continue to provide systems management as well as basic freight brokerage, while moving more deeply into international shipments. But now, additional 3PLs have entered the field.
"They have relationships with carriers, and they have people working the phones to drum up business from shippers. Now we're seeing some of these transportation customers become systems customers," Armstrong said.
Coyote, for example, uses its proprietary transportation management system to oversee U.S. inland transportation for Heineken USA's Dutch beer brands, and for Mexican beers that Heineken imports and distributes.
Overall growth of 3PLs is solid but uneven. Armstrong estimated that 3PLs' gross revenues in the U.S. market increased 6 percent last year to $141.8 billion. That was below the 10 percent compound annual growth rate since 1996, and reflected a sluggish global economy.
Armstrong divides the 3PL market into four segments: domestic transportation management, international transportation management, dedicated contract carriage and value-added warehousing and distribution.
As 3PLs diversify their service offerings, the lines between those segments are becoming increasingly blurred. An overriding trend, however, is 3PLs' expansion beyond bread-and-butter transportation into management of supply chain systems.
This expansion helped explain last year's estimated 9.2 percent growth in domestic transportation management 3PLs' gross revenue. The segment's net revenue, which excludes the cost of purchased transportation, increased 5.4 percent, according to Armstrong & Associates' annual survey.
Total revenue for the segment was estimated at $45.1 billion, nearly one-third of the U.S. 3PL industry's overall total of $141.8 billion. Gross revenue for international transportation management was estimated at $46.3 billion, an increase of 0.4 percent. Net revenue for the segment was estimated at $17.9 billion, up 1 percent.
Gross revenue from 3PLs' value-added warehousing and distribution was estimated at $35.8 billion, up 5.3 percent, while net revenue was estimated at $27.6 billion, up 3.8 percent. Gross revenue for 3PLs
from dedicated contract carriage was estimated at $11.6 billion, up 4.5 percent. Net revenue was estimated at $11.4 billion, up 4.7 percent.
3PL Financials
Revenue and profitability, by market segment, 2012.
Segment
Gross Revenue (in billions)
Percent Change 2012 vs. 2011
Net Revenue (in billions)
Percent Change (2012 vs. 2011)
2012 Profit Margin
Domestic Transportation Management
$45.1
9.2%
$6.6
5.4%
20.3%
International Transportation Management
$46.3
0.4%
$17.9
1.0%
7.0%
Dedicated Contract Carriage
$11.6
4.5%
$11.4
4.7%
5.2%
Value-Added Warehousing/Distribution
$35.8
5.3%
$27.6
3.8%
2.9%
Total
$138.8*
6.0%
$63.5
4.1%
6.5%
*Total gross revenue for the U.S. 3PL market is estimated at $141.8 billion, $3 billion of which came from the contract logistics software segment and not reflected here.
Source: Armstrong & Associates, www.3plogistics.com
Many international 3PLs operate as non-vessel-operating common carriers by purchasing vessel capacity from ocean carriers and reselling it to cargo shippers. NVOs' share of U.S. containerized imports fell to 35 percent in the first half of 2013, according to JOC sister company PIERS. That was down from 39 percent as recently as 2011.
With vessel space abundant because of rising capacity and sluggish cargo volume, shippers have less need to rely on NVO contracts to secure space on container ships. Armstrong noted, however, that many large shippers rely on 3PLs for transportation management services while contracting directly with carriers.
"The 3PLs may not be as involved as NVOCCs, but they're providing the transportation systems management to control the transportation movement and provide visibility for it," he said.
Nevertheless, he said, international transportation appears to be a mature market for 3PLs. "It seems that the international transportation business models for 3PLs got worked out in about the year 2000, or maybe even 1995," Armstrong said. "This segment continues to grow, but its growth is somewhat restrained by the slow expansion of the global economy."
Third-party logistics providers have been working to help cargo owners shift air freight to less-expensive ocean transportation, and large Europe-based 3PLs have been expanding their footprint in surface transportation.
Another growth market for 3PLs is cross-border trade between the U.S. and Mexico. In a report earlier this year, Armstrong noted that large 3PLs are heavily involved in cross-border logistics for automotive and other manufacturers, as well as for shipments of consumer goods to the Mexico City market.
Another rising market for 3PLs is the boom in the use of hydraulic fracturing technology to extract oil and gas from shale formations. Companies such as BNSF Logistics are coordinating shipments of supplies to drilling sites.
"This is not only good for the U.S. economy," Armstrong said, "but it's creating immediate business opportunities for 3PLs."
Contact Joseph Bonney at jbonney@joc.com and follow him at twitter.com/JosephBonney.