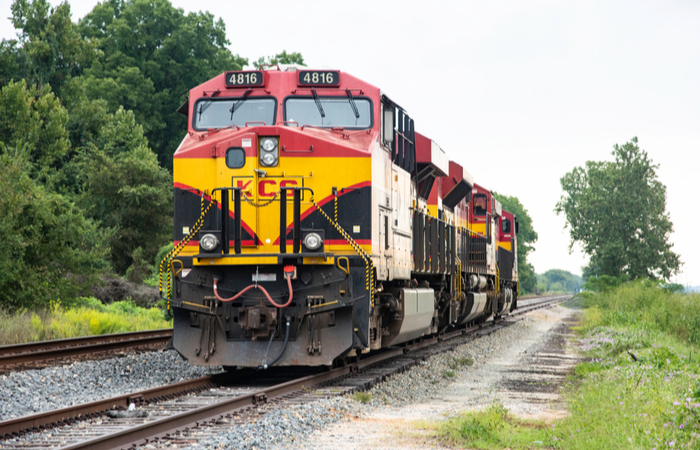 Kansas City Southern reported its profit in the third quarter jumped 31.2 percent, from $90.7 million in 2012 to $119 million in 2013.
Quarterly revenue for the Class I railroad was a record $621.6 million, up 7.7 percent from $577.4 million in the same period last year. Overall, carload volume was 3 percent higher than in the third quarter of 2012.
"Kansas City Southern achieved record revenues and carloads as a result of solid, sustainable growth opportunities and strong execution by our team," said David L. Starling, president and CEO of KCS, in a written statement. "This performance demonstrates KCS's ability to absorb the impacts of a challenging economic environment while consistently delivering strong top-line and bottom-line results."
Year-over-year revenue growth in the third quarter was led by a 17 percent year-over-year increase in intermodal. Revenue from the industrial and consumer, agriculture and minerals and automotive divisions rose 7 percent. Energy improved 6 percent, and chemicals and petroleum rose 3 percent.
"The fact that KCS delivered revenue growth in all of its business units speaks to the strength and diversity of this franchise," Starling said.
The railroad's operating ratio in the third quarter of this year improved by 90 basis points to 67.8 percent. The continued favorable year-over-year compression of the operating ratio was driven by a combination of increased pricing, minimal disruptions due to weather and operational improvements, according to Stifel Transportation & Logistics Research Group. However, the research institute noted that fuel price increases in Mexico represent a headwind going forward.
In the first nine months of 2013, net income was $238.9 million, down 16.7 percent from $286.9 million in the same period last year. However, revenue was $1.75 billion from January to September, up from $1.67 billion.
"Looking ahead, we expect a strong end to the year benefited by growth in export grain shipments," Starling concluded. "We also look forward to long-term improvement in our operating ratio as we move forward with our plan to increase the percentage of equipment we own versus lease."
Related: