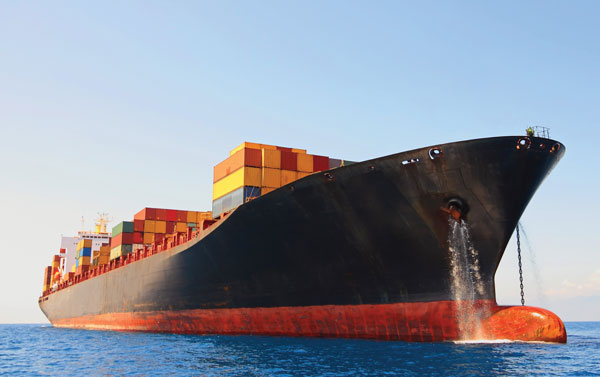 The wisdom of ocean carriers' relentless orders for large new container ships is a debatable point, but there's no denying that big ships and mega-alliances among carriers are here to stay.
That's the message Frank Baragona, president of CMA CGM (America), delivered at the South Carolina International Trade Conference in September as global carriers wrestle with cumulative losses of $14 billion the last several  years, and $3 billion alone in 2012. "This is as close as we are going to come to stabilize this industry," he said.
Maersk Line, which along with CMA CGM and Mediterranean Shipping will launch the P3 mega-alliance next year, believes that achieving density in vessel, terminal and inland transportation operations is the only way ocean carriers can cut their operating costs while continuing to provide comprehensive trade lane coverage to cargo interests.
Because carriers can't improve their bottom lines by increasing their freight rates in an environment of overcapacity, they have to achieve profit through a "ruthless emphasis on costs," Timothy O'Connell, Maersk Line's vice president of trade and marketing, told the trade conference.
Importers and exporters see a different side of mega-alliances operating mega-ships and dumping large container volumes on marine terminals, roadways and intermodal railroads. They see a supply chain beset by mega-problems.
Klaus Schnede, manager of marine and air facilities procurement at Eastman Chemical, is concerned about port congestion, infrastructure issues, fewer shipping options, longer transit times, vanilla customer service, communications breakdowns between carriers and their customers, and fierce competition among carriers for market share.
Although three to six carriers may pool their vessels, terminal and inland transportation services under the umbrella of a single alliance, they still must achieve satisfactory asset utilization, and that translates to market share in the shipping business. "Do you think they are going to give up market share?" Schnede asked.
Importers and exporters say operational problems caused by big ships already are surfacing at West Coast ports, particularly Los Angeles-Long Beach. Eric Sherman, divisional vice president for imports at Family Dollar, described his introduction to shipping through the nation's largest port complex as "stress, costs, aggravation — a learning experience."
Sherman said it can take three to four days after a vessel docks to retrieve a container, so an importer must add those days to the transit time for each vessel.
The PierPass program that added five night or weekend gates each week to the existing five weekday gates comes at added costs for some shippers. Sherman described appointment systems as a "disaster." He said chassis shortages and environmental requirements in Southern California are "top pushing down" rather than voluntary on the part of the industry.
A self-described "long-time South Atlantic shipper," Sherman said ports in that region are marked by relatively quick vessel turn times, gate flexibility and voluntary efforts to improve sustainability.
But terminal industry experts in Southern California said it's all about volume, and retailers who are accustomed to East Coast ports that generate 600 container moves per vessel call better hope that mega-ships calling there in the future don't generate the 7,000 to 8,000 container moves per vessel call that are common in Los Angeles-Long Beach. 
Ed DeNike, chief operating officer at SSA Marine, said his crane operators in Southern California average 30 to 32 container moves per crane per hour. Terminal operators generally place five cranes against a vessel, and work each vessel for two eight-hour shifts a day.
Given that productivity, a vessel call that generates about 3,500 discharged containers and 3,500 outbound containers, or more, can be expected to take at least three days to be worked. "When you're doing 7,000 to 8,000 moves, it's a different ball game," he said.
Judging container availability by the last containers to be removed from a ship is misleading, said Mark Sisson, who leads the marine analysis group at engineering firm AECOM. Containers are effectively available within a half-shift to no more than one shift after they come off the vessel, so those containers discharged on the first day of the vessel arrival are available that same day, he said.
Even importers who must wait until the second or third day for their containers to be lifted from a 10,000-TEU vessel in Southern California are still better off than if their shipments went on an all-water service that could take up to two weeks longer to reach the East Coast, he said. "It seems incredible that the East Coast will be marketing on speed to market," Sisson said.
The PierPass extended gates program was borne out of necessity at a port complex that processes 14 million 20-foot-equivalent container units a year, with 1,000 motor carriers generating 30,000 gate moves each day, said Bruce Wargo, president of PierPass Inc. That volume of traffic can't be handled in one daytime shift.
Although cargo interests that pick up their shipments during the peak daytime hours must pay a traffic mitigation fee that helps to compensate terminals for the night and weekend gates, there is so much traffic that is exempt from the daytime charges that only 26 percent of the cargo incurs the traffic mitigation fee, Wargo said.
While the frustrations shippers in Southern California face eventually may spread to East Coast ports when the big ships calling there generate similar cargo volumes, the issues importers and exporters face in dealing with mega-alliances already exist on both coasts.
When carriers form an alliance, they add, delete and combine services, Schnede noted. On various trade lanes, these changes can work to the advantage or disadvantage of individual customers. Importers and exporters therefore must scrutinize the port calls and transit times and spread out their risks when booking freight so as not to be disadvantaged by the new services, he advised.
Despite the many changes brought about by mega-alliances and big ships, O'Connell said it's still up to the individual carriers to handle the details of the transportation, including booking cargo, processing documentation, cutoff times and value-added services. "The differentiator," he said, "is how each line gives service to the customer."  
Contact Bill Mongelluzzo at bmongelluzzo@joc.com and follow him at twitter.com/billmongelluzzo.