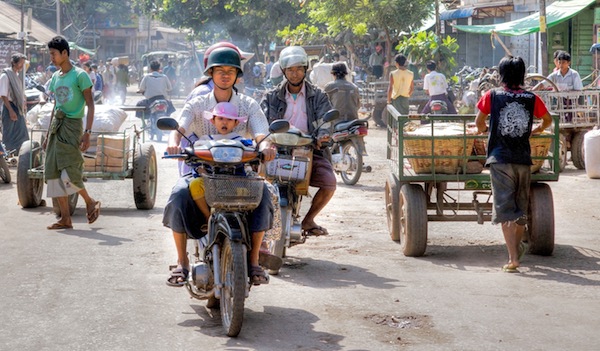 Original equipment manufacturers are urgently targeting the heady potential offered by Myanmar's untapped consumer market, low wages and excellent trading potential.
A number of textile companies have already taken the plunge and now Unilever has confirmed it will soon build its first manufacturing plant in the country, primarily to meet domestic demand.
"Myanmar is a big focus area for us," Ajit Venugopal, vice president logistics for Africa, Asia and Russia, told delegates at Transport Intelligence's Emerging Markets Logistics Conference at the end of September. "They are on the cusp of development, and it's a potentially huge consumer market.
"We usually take a call using a 10- to 15-year horizon, but for Myanmar this is a 20- to 30-year game. It's a long-term investment for us," Venugopal said.
The liberal political and economic reforms undertaken in Myanmar by President Thein Sein since 2010 are helping speed the country's integration into the global economy, with investors drawn by its natural resources, low labor costs and a potential consumer market of some 60 million people. Most non-arms trade sanctions have been removed, and membership of the ASEAN bloc and a position adjacent to India, China and Thailand also makes Myanmar a suitable place for regional distribution, not least with the ASEAN Economic Community due to commence in 2015.
However, although Myanmar's airports are currently served by more than 20 foreign airlines and shipping and logistics firms have been quick to move in, transport infrastructure remains an issue as the World Economic Forum reported recently.
Joy Rice, regional supply chain support director at Diageo, told Ti delegates that Myanmar was a target market for the beverage giant, but the distribution challenges were still huge. "One of the things we realize at entry level is that we might have great product offering, but we are not in the right place," she said. "You have to play in the right playground. Myanmar is a new frontier for us. We are now looking at how to get products available in the places that people are shopping. So it's on the radar but we don't have a distribution solution in place yet."
Rice said Myanmar would eventually play its part in Diageo's medium-term "west to east" strategy. The aim is that by 2017 the company will generate at least half of its revenue in emerging markets, with the Asia-Pacific viewed as a key engine of growth.
"Our focus is on the emerging middle class and luxury consumers," she said. "From a supply chain perspective … it's about how to respond quickly to changing needs or markets in Asia. It's hugely challenging, given the demographics of the region."
Venugopal said Unilever also viewed emerging markets, where millions of people are moving into the middle class and buying aspirational products, or moving further up the wealth scale and buying luxury products, as critical to its future growth.
He said that when economies are growing, it usually made sense for manufacturers such as Unilever to build their own factories and source locally, an approach that also helps guard against the impact of protectionism, always a threat when the global economy is volatile. However, the expansion of the overall market also allowed economies of scale to be generated at a global level.
"(The new middle class) are buying products their parents only dreamt of," he said. "The implication for us is a massive explosion of scale in the way we run factories, producers, the way we buy assets and plan factories and find talent. We can run the business globally."
Contact Mike King at mikeking121@gmail.com.