New York-New Jersey remains top dog among East Coast container ports, though smaller rivals are starting to chip away at its dominance.
During the first seven months of this year, Virginia posted monthly year-over year increases ranging from 4.3 percent in January to 19.1 percent in July. New York-New Jersey showed year-over-year declines each month, including drops of 7.8 percent in February and July and 8.5 percent in June.
Those numbers require some perspective, however. Though its market share has slipped, New York-New Jersey still handles nearly five loaded containers for every two that move through Hampton Roads terminals.
New York-New Jersey's share of East Coast container volume dipped to 32.5 percent in the first half of this year from 34 percent in the first half of 2012. Virginia's market share was 13 percent, up from 12.4 percent a year earlier.
With its 50-foot-deep channel and Heartland Corridor stacktrain connections to the Midwest, Virginia has been making a big play for intermodal shipments. Through the first seven months of this year, Hampton Roads' container volumes, excluding empty boxes, totaled 1,021,641 20-foot-equivalent units, a 10.5 percent increase from a year earlier.
Virginia and Baltimore received some help in July and August when New York-New Jersey terminals endured several weeks of operating problems that produced long delays. New York-New Jersey's problems were so severe that ocean carrier Hapag-Lloyd urged cargo interests to use alternative ports until congestion cleared.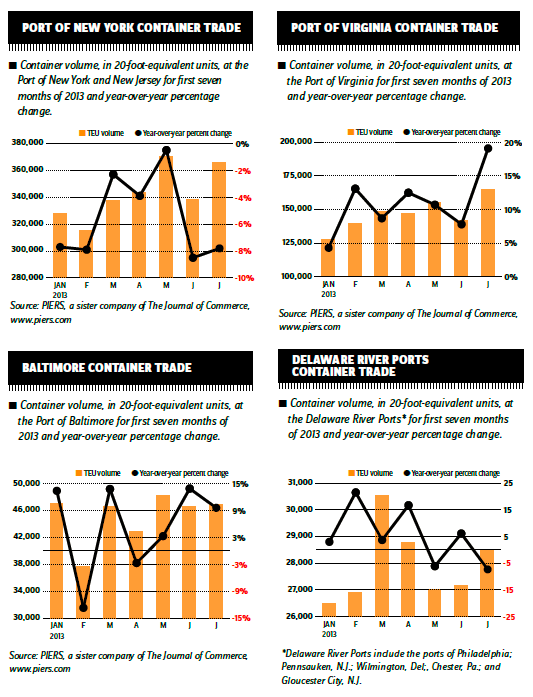 Virginia's loaded exports in July, the latest month for which PIERs data are available, jumped by 27.9 percent to 85,823 TEUs, while imports rose 24.8 percent to 79,370 TEUs. Baltimore's July exports rose 7.8 percent to 30,760 TEUs, while exports increased 13.1 percent to 16,196 TEUs. Through the first seven months of the year, Baltimore's total volume increased 5.3 percent, to 316,142 TEUs.
How much of those increases were at New York's expense is unclear. Although truckers reported that some shipments were diverted to other ports, most shippers put up with the delays rather than endure the cost and inconvenience of redirecting shipments. Indications are that routings returned to normal when New York-New Jersey's problems diminished.
New York-New Jersey's total volume in July declined 7.8 percent, to 365,827 TEUs. The port's July imports slipped 4.9 percent while exports plummeted 14 percent. Through the first seven months of the year, New York-New Jersey's total volume was down 5.5 percent.
New York-New Jersey's summer delays began with computer problems at Maher Terminals and spread portwide when diversion of ships to other terminals created logjams complicated by major construction and bunching of ship calls.
Port officials say they believe last summer's problems were a one-time event, and that infrastructure improvements and changes in operating practices will enable the port to maintain its position and make up lost ground.
The port's large local consumer base makes it a must-call port for most East Coast carriers. Sixty-four container services call at the Port of New York and New Jersey. Of those, 43 make the port their first inbound call. Eleven use it as their last outbound call.
The battleground among East Coast ports is for inland traffic for which cargo interests have a choice of ports. New York-New Jersey's higher costs have been a handicap in competition for these shipments.
New York-New Jersey officials say a decade-long infrastructure improvement program is starting to remove some of the kinks from the flow of cargo through the port, and that a new six-year International Longshoremen's Association labor contract offers a path to narrowing the port's deficit on costs and productivity.
The Bayonne Bridge between Staten Island, N.Y., and New Jersey is scheduled to be raised to a 215-foot clearance by the end of 2015, allowing larger ships to reach terminals in the Newark-Elizabeth container complex. A $1.6 billion project to dredge channels to 50 feet also is nearing completion.
The port now handles ships with capacities of up to 9,300 20-foot-equivalent units. Rick Larrabee, director of port commerce, said the raising of the Bayonne Bridge will allow Newark-Elizabeth terminals to accommodate ships up to 11,000 to 12,000 TEUs.
Along with the Bayonne Bridge raising and the deeper channels, work is continuing on expansion of port terminals. Port Newark Container Terminal is undergoing a
$500 million expansion that will expand its 188-acre footprint to 300 acres and nearly double its annual capacity to 1.4 million ship-shore container lifts. A new "flyover" to PNCT's intermodal railyard allows trucks to avoid street-level traffic lights.
Global Terminal at Bayonne, N.J., on the seaward side of the Bayonne Bridge, will be the East Coast's most technologically advanced terminal when it completes a 70-acre expansion next April. Global is installing remote-controlled rail-mounted gantry cranes in the terminal's new section, and has installed a gate system that uses optical character recognition and radio-frequency identification.
Global's corporate sibling, New York Container Terminal, won a new lease on life when the port authority signed off on a plan to offset toll increases on port authority bridges linking New York and New Jersey. NYCT, on Staten Island, is the only major terminal on the New York side of the harbor.
When Global's new intermodal railyard opens, the port authority will have achieved its objective of providing intermodal rail at all five of the port's major container terminals. New York-New Jersey officials are counting on intermodal rail to help extend the port's reach to additional inland points.
New York-New Jersey officials also have high hopes for the port's new local ILA contract, which sets productivity goals and aims to reduce costs over the next six years.
The ILA and the New York Shipping Association settled their local contract last spring, shortly after the union and employers agreed on a coastwide master contract. Local contract negotiations continued long afterward in Philadelphia, Baltimore and Virginia. Hampton Roads dockworkers approved their local contract Aug. 30 after voting down two earlier versions.  
Contact Joseph Bonney at jbonney@joc.com and follow him at twitter.com/JosephBonney.