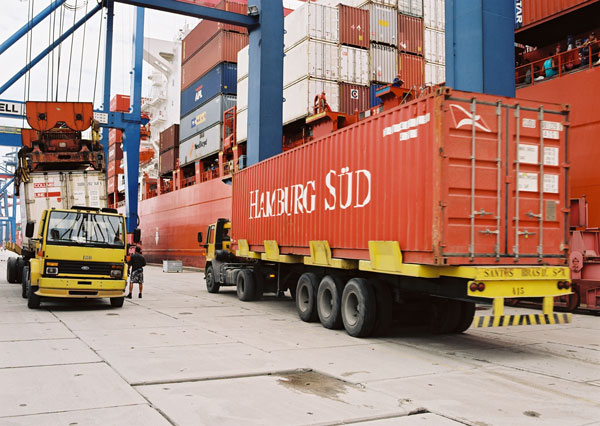 For many years, ships with capacities of 5,900 20-foot equivalent units were the standard size used to carry goods to and from Latin American ports, but bigger vessels are becoming more common. Ships of 7,100-TEU capacity are calling at Latin American ports, and vessels as large as 9,600-TEU capacity are on their way, according to Juergen Pump, senior vice president of Hamburg Sud North America.
Latin America's trade with Asia, the U.S. and Europe continues to grow, and that is the main reason carriers are deploying larger vessels in those trade lanes. Another is that carriers have so many new vessels on order that they are running out of routes in the major east-west trades where the big ships can be profitably used.
However, while carriers are ready to deploy more mega-ships in the Latin American trades, ports there may not be prepared to handle them, Pump told the South Carolina International Trade Conference in September.
For example, Santos, Brazil's largest port, has modern container terminals and cargo-handling equipment, but because of severe landside congestion, the average wait time to get to berth is two to three days.
Berthing windows are so precious that if a vessel misses its designated time, it is usually a seven-day wait for the next opening. "This highlights the challenges carriers face," Pump said.
Port authorities throughout Latin America are deepening their harbors and modernizing their container terminals in a race against time, and in many instances they are losing the race. Latin America's trade volume is growing faster than the ability of the public and private sectors to build the port and landside infrastructure needed to accommodate ships that generate 4,000 or more container moves per vessel call.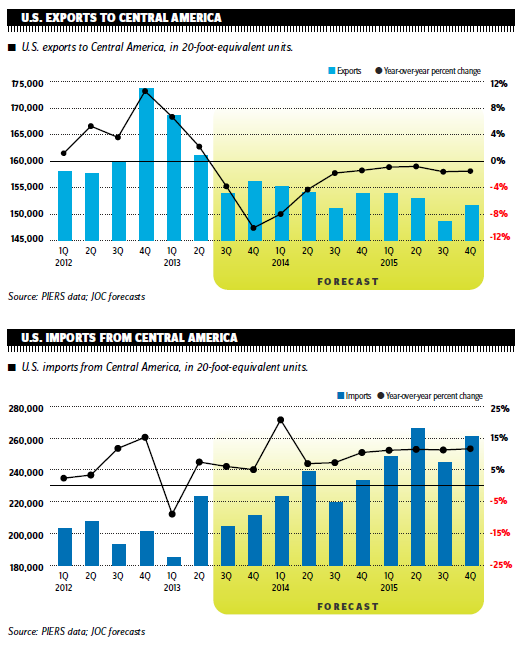 As U.S. East Coast ports discovered this year, carriers don't wait for infrastructure to be developed before deploying their big ships. East Coast ports have been frantically developing port and landside infrastructure in anticipation of the 2015 completion of the Panama Canal's new wider locks, but shipping lines decided earlier this year they couldn't wait that long. They have initiated several new all-water services from Asia to the East Coast using post-Panamax ships via the Suez Canal.
"Carriers are forcing it. The reality is that ships are getting bigger," said Walter Kemmsies, chief economist at Moffatt and Nichol. As carriers seek the economies of scale in the north-south trades that they are experiencing in the larger east-west trades, they do not hesitate to replace two strings of 4,500-TEU vessels with a single string of 9,000-TEU ships.
The larger vessels will place a tremendous strain on the marine terminals and inland infrastructure of many port cities in Latin America. In fact, given the inadequate surface roads, highways and rail infrastructure in Latin America, ports there will probably achieve deep harbors and adequate marine terminal capacity before they fully develop their landside infrastructure.
That is why port cities in Brazil are turning to "dry ports" at inland locations where containers are trucked for temporary storage until they are retrieved by the consignees. Pump noted that container dwell time at marine terminals in Santos averages 20 days; excessive dwell time is a major factor contributing to port congestion.
Latin America's needs for deeper, more efficient ports will become even more pronounced in mid-2015 when the Panama Canal enlargement project is completed. Then ships with capacities of 13,000 TEUs — nearly triple the capacity of Panamax vessels — will be able to transit the canal. Larger dry and liquid bulk vessels will also move through the bigger canal locks.
Recognizing the port and landside infrastructure limitations in many Latin American countries, Panama is emphasizing development of large transshipment hubs on both sides of the canal, said Rodolfo Sabonge, executive vice president of market analysis and research at the Panama Canal Authority.
Sabonge told the South Carolina conference that transshipment in Panama is projected to increase to 12 million TEUs in 2020 from 7 million TEUs today.
Even though accommodations such as transshipment from 13,000-TEU vessels in the east-west trade lanes to smaller vessels in the north-south trades will provide relief in the short-term, the cost savings inherent in mega-ships are too compelling to continue the transshipment model indefinitely.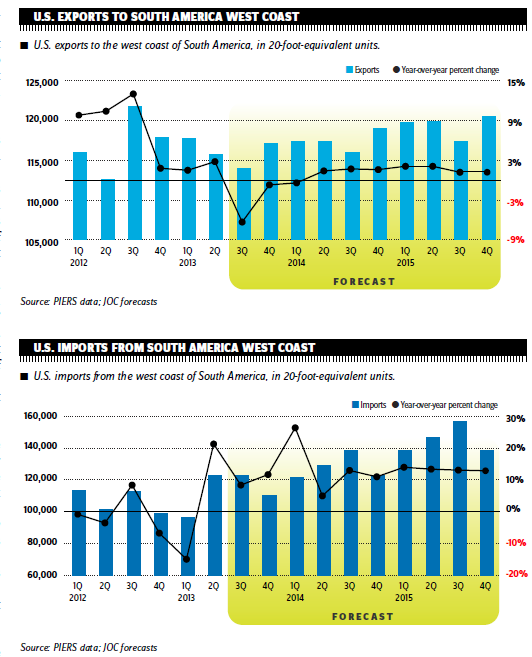 "What the lines do in many ways will be more important than what the ports do," Kemmsies said. As is happening on the U.S. East Coast, shipping lines will deploy most of their capacity to ports that are capable of handling fully loaded post-Panamax vessels, and those ports in Latin America that do not have sufficient capacity will lose market share.
This scenario will develop even more rapidly if carriers continue to pool their assets in vessel-sharing arrangements. The recently announced P3 alliance of Maersk Line, CMA CGM and Mediterranean Shipping Co. will feature 255 vessels on 29 service loops when it begins operations next year. Because the lines have more post-Panamax and super post-Panamax vessels than any other carriers, they will concentrate their assets in the larger east-west trade lanes.
However, those vessels with capacities of 13,000 to 18,000 TEUs will displace ships of 8,000 to 10,000 TEUs, and some of those vessels will find their way to the north-south trades.
All ports in Latin America recognize the developing trend, and those ports with aspirations of being load centers in their regions are addressing waterside issues, Kemmsies said.
Ports in Mexico, Panama and Chile, which are already highly dependent on container ships to carry their exports and imports, are ready. Colombia, Peru, Ecuador, Brazil and Argentina are focusing on harbor dredging, and international marine terminal operators such as APM Terminals, Dubai Ports, SSA Marine and Hutchison Ports are expanding the terminals and modernizing cargo-handling operations.
The government of Brazil in December announced a $26 billion program to address port and logistics requirements. Other countries in the region are also investing in waterside improvements to accommodate the big ships.
For many ports in Latin America, the biggest challenge will be on the land side. Kemmsies noted that colonial port cities such as Lima, Peru, and Recife, Brazil, are built right up to the waterfront, and their narrow streets were not designed to handle thousands of trucks hauling containers to and from the harbor.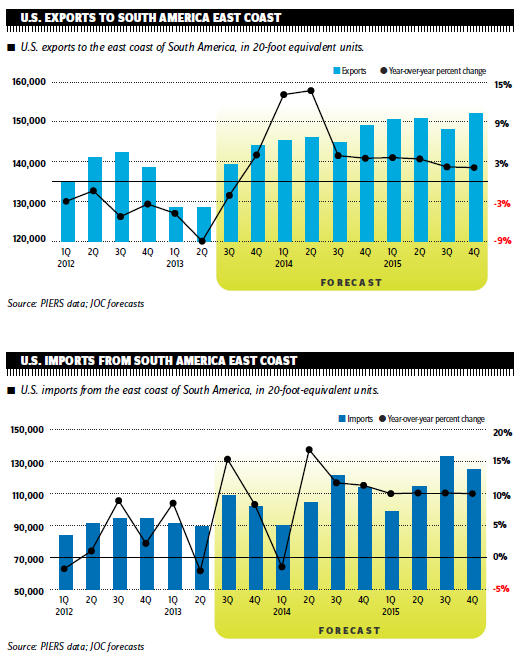 Also, the rugged geography of South America provides natural barriers that separate the mines and farms of the interior from the seaports. Because of the long distances and inadequate road and rail infrastructure, spoilage of grain and other food products is common in countries such as Brazil. In fact, Brazil is a major competitor of the U.S. for grain and soybean exports, but its infrastructure limitations prevent it from dominating the export trades in those commodities.
Latin America has a short window of opportunity to address its infrastructure inadequacies. Economic growth in Europe, the U.S. and China remains slow. As a result, South America's exports of minerals, metals and grain products have dropped off from the previous double-digit growth rates.
Economists agree that Latin America countries must invest at least as heavily in inland infrastructure, if not more so, than they are in port facilities, in order to participate in the next trade boom.
Contact Bill Mongelluzzo at bmongelluzzo@joc.com and follow him at twitter.com/billmongelluzzo.