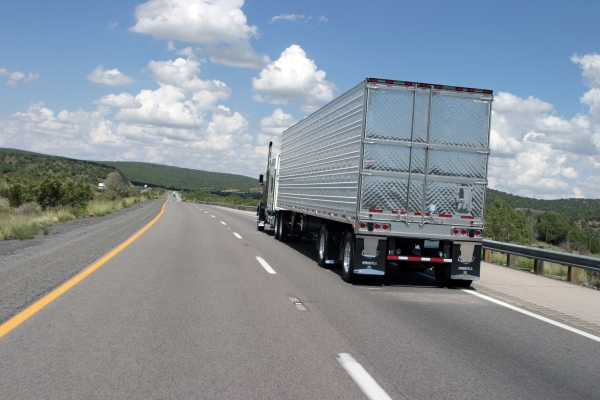 Economic growth remains sluggish, but those sectors that are doing well — housing, automobile sales, manufacturing and energy — are big generators of freight for motor carriers, according to Bob Costello, chief economist and vice president of the American Trucking Associations.
If the U.S. can register two consecutive quarters of 3 percent growth in gross domestic product, and the driver shortage intensifies, the tenuous supply-demand balance that exists today in trucking will quickly become a capacity shortage.
"We are headed to a capacity crunch in this industry. There is no doubt about it," Costello told the TMW Systems User Conference on Sept. 24 in Anaheim, Calif.
GDP growth this year is projected to be only 1.5 percent. Nevertheless, given the strong headwinds the economy faces, including this year's tax increases, federal sequestration and the likelihood the Federal Reserve may taper its bond-buying program, the economy's performance has been "pretty astounding," Costello said.
Performance in the trucking industry has been uneven, with some sectors doing well and others not so well. Short-haul truckload (less than 500 miles) is up 2.1 percent from last year and intermodal truckload is up 6.7 percent.
However, medium-haul (501-999 miles) is down 0.6 percent and long-haul (more than 1,000 miles) is down 15.8 percent, Costello said.
Learn more about the driver shortage
Motor carriers that serve growing sectors of the economy are doing rather well. Housing generates a huge amount of truck freight, both in terms of carrying construction materials for home building and carrying furnishings and other consumer goods to retail stores.
Sales of new homes are up 24 percent, housing starts are up 23 percent and sales of existing homes have increased 17 percent. "Those are all good numbers," Costello said. A recent increase in mortgage interest rates may slow down the housing market but will not derail it. Mortgage rates below 5 percent are still quite low when compared to the average rates over the past 30 years, he said.
Automobile manufacturing remains strong, and this is good for trucking. Also, other manufacturing sectors, though slowing down somewhat this year, are still doing well. In dollar terms, unadjusted for currency values, the U.S. is second only to China as a manufacturing powerhouse, Costello said. While China specializes in labor-intensive manufacturing, the U.S. does best in industries that are capital intensive and require precision manufacturing, he said.
The combination of increasing energy efficiency, a drop in oil imports and a surge in oil and gas production that has been underway for a few years now will help the U.S. to become the world's largest producer of energy by 2020. This has "big implications for trucking," he said.
On the supply side, sales of new trucks are sluggish, and motor carriers in fact are increasing their exports of used trucks to Mexico and other markets, so capacity in the truckload sector is basically flat. Capacity will diminish further as federal safety regulations place added restrictions on drivers.
In fact, the industry estimates it must add 96,000 drivers as year for the next 10 years, but many drivers are retiring or are finding higher-paying jobs in other industries such as construction.
The solution to the driver shortage may be higher pay and modifications to routes to allow drivers to spend more time at home. A combination of growing GDP and pronounced capacity shortages may give motor carriers the pricing power they need to swing market conditions in their favor, Costello said.
Contact Bill Mongelluzzo at bmongelluzzo@joc.com and follow him at twitter.com/billmongelluzzo.